Liverpool
From Pep's Kryptonite to the search for the real Salah - Why the world will be watching Liverpool v Man City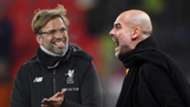 Mo Salah stood expressionless, arms outstretched, a figure of calm amid a red sea of delirium.
"Did you really think I'd let you down?"
Three-quarters of the Etihad Stadium fell silent, stunned. Some made for the exits, others searched for someone, anyone, to blame. The rest got ready to party.
Liverpool's last meeting with Manchester City was defined by that one moment: Salah's cool-as-ice finish, which effectively sent the Reds through to the Champions League semi-finals. 
Now, the world waits for the latest instalment of English football's newest and potentially most exciting of rivalries. Anfield awaits.
It's a meeting of the Premier League's top two, two teams boasting unbeaten league records and, in many people's eyes, the two main title contenders this season. It's the two best attacks taking on the two best defences.
It promises to be fascinating, the game of the season so far. After Cardiff-Burnley last week, this really will be a Super Sunday. Don't miss it!
Here, we take a look at some of the sub-plots surrounding this weekend's heavyweight clash…
---
THE BATTLE FOR CONTROL
---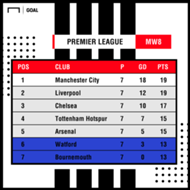 The short-term scenario is simple. A win for either side would send them clear at the top of the table, opening up at least a two-point advantage. With a two-week break until the next round of Premier League fixtures, the psychological implications are clear.
For Liverpool, it would be huge given the sides' respective starts to the season. To be top of the pile after facing both Tottenham and Chelsea away, as well as City at home, would be significant. Especially as the seven of the Reds' next eight league games are against Huddersfield, Cardiff, Fulham, Watford, Everton, Burnley and Bournemouth, with a trip to Arsenal sandwiched in between.
City, by contrast, have already played five of the Premier League's bottom six clubs and face games with Tottenham and Chelsea (away) and Manchester United (home) before the end of November. A win at Anfield, where they have traditionally struggled, would give Pep Guardiola's side the confidence to face any challenge head-on.
Whatever happens on Sunday need not be definitive – both managers would, one suspects, accept a point if offered now – but it will tell us plenty. A win for City would underline their credentials as the league's dominant force, victory for Liverpool and they'll really start to believe.
---
BUMS ON SEATS
---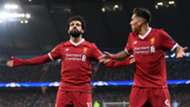 Apologies to Maurizio Sarri, but Sunday is a meeting of the Premier League's two most exciting sides.
It's a neutral's dream, two teams packed full of excellent, mobile, hungry footballers, and two managers intent on imposing their style of attacking, high-energy football. The styles may be different, but the mindset is not. Neither will be playing for a draw this weekend.
Last season, the four meetings produced 18 goals – many of them memorable. The pace and intensity of each meeting was dizzying – who could forget Liverpool's three-goal blitz (twice) at Anfield or that incredible first-half at the Etihad where it seemed City would wipe out the Reds' advantage in the blink of an eye.
More of the same on Sunday? It would be no surprise.
"I really think the most important job of football is entertaining the people," Klopp said on Friday. "Because it's only football, it's nothing else. We don't save lives, we don't create anything, we are not good in surgeries, we are only good in football.
"If we would not entertain the people, why would we play it then? That's why we have to try to create constantly or as often as possible."
Sounds good, eh? Strap yourselves in…
---
SWEET REVENGE
---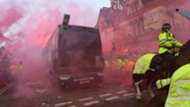 When you win the Premier League at a canter, breaking the 100-point barrier in the process, it is easy to lose a bit of that competitive edge, to take your eye off the ball and let your standards slip.
With City, and with Guardiola, that seems unlikely. And if there was any danger, the sight of Liverpool should be enough to get their minds re-focused.
Watching 'All or Nothing', the behind-the-scenes documentary series which charted City's title-winning campaign, one thing was clear; the Reds have their attention, and their respect.
"They scare me," Guardiola admitted. "They are dangerous, I mean it."
Liverpool have won the last three meetings – both legs of the European tie and a sensational 4-3 win at Anfield in the league back in January. Only twice before in their history have City lost four times t the same opponent in a calendar year – doing so to Spurs in 1993 and Grimsby Town in 1936.
Guardiola will be keen to prove his side can live with the Reds' tempo and aggression, that they can impose their own style in a hostile environment. They finished 25 points clear of Liverpool last season, but 
His side, meanwhile, will remember the pre-match attack on the team bus when they last visited. Guardiola was filmed sarcastically congratulating Liverpool staff for the "protection" they afforded his players, while a video from inside the bus shows an unidentified City staff member referring to Liverpool as "the s******t city in England" and the fans outside the coach as "f***ing scumbags". Liverpool, on the night, issued an "unreserved" apology.
Steps have been taken to avoid a repeat this time, with City changing their route to the stadium and installing special HD cameras on their vehicle. The hope is that those planning a "greeting" this time will be deterred, and that their arrival can pass without incident.
Whether the bus attack had any impact on what happened on the field back in March is debatable, but the following is not; City, and Guardiola, would LOVE to get revenge this weekend.
---
KLOPP: GUARDIOLA'S KRYPTONITE
---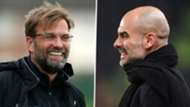 There are not many managers who can boast a winning record against Guardiola but Klopp is one, the German's name sitting alongside the likes of Carlo Ancelotti, Bruno Genesio, Paul Cook and Carlo Ancelotti.
In fact, Guardiola has lost more times against Klopp than against any other manager, with eight defeats (one on penalties) from 14 meetings with both Bayern and City. Pep's Kryptonite? He just might be.
City's struggles at Anfield pre-date Guardiola; they last won here in 2003, when Kevin Keegan was in charge and Nicolas Anelka scored the winner. Since then there have been 11 defeats in 15 visits; they have won just one of their last 27 and not kept a clean sheet in their last 24. It has not been a happy hunting ground.
In his pre-match press conference on Friday, Klopp was quick to downplay the significance of past victories. "When we beat City we didn't go in the dressing room and think, 'Now we got it, now we know how to beat Manchester City'," he said. "Because there is no real way, no."
Still, he admitted that Liverpool are "not the most comfortable opponent" for Guardiola's side, and he is confident there will be a positive reaction after Wednesday's abject Champions League defeat in Naples.
"We need to be at 100 per cent, if not 110 per cent, to deal with the quality of City," Klopp warned. "But if we are, it could work."
---
SEARCHING FOR THE REAL SALAH
---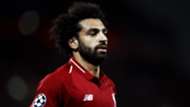 Another week, and more questions about Liverpool's star man.
Salah's form this season has been patchy, to say the least. With three goals from his 10 appearances so far, the Egyptian's strike-rate has been the subject of much discussion. His overall contribution, highlight again against Napoli, is a source of concern for many.
Don't expect him to be left out on Sunday, though. The best move is always the one your opponent least wants you to make, and Liverpool dropping Salah would certainly be something City would welcome. He scored in each of the Reds' three victories last season and was their most dangerous player in the Etihad league game prior to Sadio Mane's red card.
His tussle with Benjamin Mendy, who has been passed fit to play, could be a decisive one. The Frenchman provides so much for City with his raids and crosses from left-back, but if Salah can return to something like his best, it could be a hell of a contest.
"It's a completely normal situation," Klopp said when asked about Salah on Friday. "Nothing to worry about and I am relaxed."
He's backing his main man to deliver on the big stage. It was around this time last year that Salah's form really exploded; the sight of City may just shake him into life this time around too.