Australia
From Melbourne City reserve to Eredivisie starter: Denis Genreau's incredible rise to the Socceroos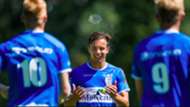 To say Denis Genreau has hit the ground running with Eredivisie side PEC Zwolle is a massive understatement.
The 19-year-old Australian scored with his first touch for the club in a pre-season match, went on to score six goals and has now started three of Zwolle's first four Eredivisie games.
For a player that featured just twice for A-League side Melbourne City last season, Genreau is quickly showing he's more than ready for senior football and was rewarded last week after being named in Graham Arnold's first Socceroos squad. 
His fast start to life in the Netherlands not going unnoticed as the attacking midfielder goes from strength to strength. 
"I think it was really important for me to start well and to make a good impression from the start," Genreau told Goal.
"I came on at half-time in the first pre-season game and it was with my first touch of the game where I scored, and this gave me a lot of confidence from the start.
"Then the rest of pre-season was one of those periods where everything you seem to try works!" 
Goals like the one below, proof Genreau isn't short of confidence and capable of adding a real edge to the Socceroos attack in the future.
Handed his Eredivisie debut in Zwolle's first game of the season, Genreau admits even he's surprised by his quick rise to the first team. 
"Initially my goal was to come over to PEC Zwolle and to train hard and to hopefully make a debut during the season," he said.
"But to have started three out of the first four games in the competition is a great feeling, and also to know that my performances during pre-season were rewarded is nice.
"It has come a little sooner than expected, but I knew if I was focused and gave 100 percent at every training and game, anything was possible."
A big reason behind the Aussie's loan move to the Netherlands was former City coach John van't Schip, who is now in charge of Zwolle.
"I've always had a good relationship with John, and the way he wants to play football suits me a lot," Genreau said.
"The training environment that he created at Melbourne City was always great for my development, so obviously he was a big motivator for me to come over and to play and continue to learn under him."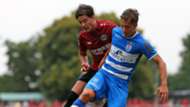 While Daniel Arzani was given his chance to shine last season at City, Genreau found his opportunities limited under Warren Joyce.
Though not an ideal situation, the 19-year-old has come to terms with it as it has ultimately led him to fulfilling a career dream in Europe. 
"It's obviously frustrating to have not played last season, especially when I felt like I had a great pre-season and was also training well throughout the year," he said. 
"But it happens when you don't fit into the coaches plans, and that's okay, you just have to keep training hard and working on yourself, so that if an opportunity comes you're ready to take it. But I learnt a lot last year as well, and developed in a different kind of way. 
"My goal is to stay in Europe and to continue to develop here. It's been a lifelong dream to play in the European leagues, and at the moment I'm living my dream, and I don't want it to stop."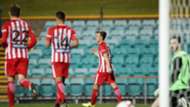 With his club dream becoming a reality, Genreau's international aspirations are also now taking shape as he enters a week-long Socceroos training camp in Turkey.
Just as he's taken his chances in the Netherlands, the Aussie is similarly desperate to stake his claim in the green and gold. 
"I'm so excited to be called up for the Socceroos camp," he said. 
"This is a dream come true, and to know that the national team has been following me is great.
"For me this is just the start, and there is so much hard work to come and to continue to improve, but this will be a great experience to compare myself against the best Australian players from around the world. It's a great opportunity for me to show the coach what I can offer and also to get to know the other players and the staff."