Liverpool
From Kiev to Homebase - How Andy Robertson put Liverpool's Champions League heartache behind him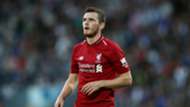 There was only person Andy Robertson wanted to be with. Only one person he could stand to be with.
The disappointment of Liverpool's Champions League final defeat was raw, painful to deal with. The flight home from Kiev was a sombre one, with conversation at a premium. Who wants to talk about that, after all?
After a swift debrief at Melwood, hosted by Jurgen Klopp, it was time for home. Time for silence, stewing, self-reflection. For Robertson, time for the right kind of company.
"I sat up and spent some time with my little one," he says, almost apologetically. "He can't speak yet, which I was quite happy about!
"I didn't speak to anyone for a while, to be honest. The day after the final, all my family were flying back and coming to the house. I had over 20 people at the final and they were all flying in at different times and all trying to catch some sleep. It was a bit manic.
"You put so much into the whole day, so much adrenaline, and then you have a massive come down afterwards. That hit me."
Fortunately for Robertson his father, Brian, was on hand with the ideal solution.
"We had to go and buy a barbecue because everyone was coming round!" he says, smiling. "So, yeah, the day after the Champions League final I'm in Homebase in Formby buying a barbecue!
"But it just got me out the house to be honest! My dad is quite good in those kind of situations. He'll talk about everything but football, so I went with him and then me, him and my missus' dad took care of the barbecue!
"By about three o'clock when everyone had arrived, I was just happy to have my family round me. I could see how proud they were of me and it was good to be surrounded by them. It was a good comfort."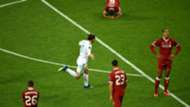 A few days later, Robertson sat alone and watched back over the final. Another painful experience, in many ways, but a necessary one for a player constantly seeking ways to learn and improve.
"I don't like watching games with people around to be honest, so I watched it on my own," the Scot says.
"It was a tough watch. I watched the first half an hour and even then I was thinking 'we've got them here!' but obviously things started going wrong after that.
"I honestly think the second goal took the wind out of our sails, and we didn't know how to bounce back from it. Watching the game back, I think you can tell we weren't really going to get back into it. Sadio [Mane] hit the post but [Luka] Modric started coming into his own, calmed the whole game down and it was a real struggle for us. They won comfortably in the end."
The disappointment in Robertson's voice is clear, but a sense of perspective in football always helps. The previous May, for example, his season had ended with relegation to the Championship with Hull City. His rise since has been huge. Life-changing, in fact.
"You get noticed a bit more," he reflects. "That's natural if you're playing for a club like this.
"The first couple of months I wasn't really anywhere to be seen, there was no big deal about it and that was probably what I wanted at the time. Now I feel more established in the squad.
"It's small things really. I've never been to America before, for example, so to see the fans on the tour and hear them shouting your name is mad. You'd maybe think they'd be here just to see Liverpool, but they know all the players, they're clued up!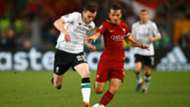 "You get noticed more on holiday and things like that, but I only went to Portugal so it was full of Scousers and Glaswegians anyway!
"And anyway, it's good to be noticed, because it means you're playing and doing something right."
Robertson certainly has been doing something right at Liverpool. It took him until December last year, and an unfortunate injury to Alberto Moreno, to break into Jurgen Klopp's first team, but once he was there he was staying. Klopp told Goal that if only a handful of clubs wanted to sign him last summer, there would be a queue of them were Liverpool to sell now.
Such performances – think of the win over Manchester City in January or the Champions League semi-final against Roma – will naturally bring with extra scrutiny and extra pressure. Is that something the 24-year-old is ready for?
"Yeah of course," he says. "As soon as you put in one good performance for a club like this there's pressure, because the next week fans expect it again.
"Last season, nobody put pressure on me really. I think for some fans, anything I did was a bonus! This season, obviously, there's more expectation but I have to use that to my advantage.
"I like pressure, I put in on myself and I think I get the best out of myself by doing that. I just can't wait for the season to start now, hopefully we can hit the ground running and keep the confidence from the back end of last season."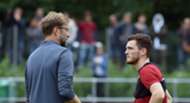 Liverpool look well-equipped to challenge this season. They have strengthened in key areas with players of pedigree, and appear to have the kind of togetherness and spirit that title-winning teams are built on. The dressing room is tight, committed, hungry.
Enough to close the gap to those above?
"Hopefully!" Robertson says. "Last season, City just blew everyone away really. Even if you see Man United's points total, usually that's not too far away from winning it, but last season it was miles away because of the way City had done it.
"The first part of the season was crucial, and they were too far away from us from quite early on really. But hopefully the gaffer's identified players who he thinks can come in and make a difference. There's no doubting their quality.
"We look forward to playing with them, it gives certain positions added competition but that's what we need. Last season we were doing well with injuries then it all sort of hit us at once. We struggled near the back end of the season with that. This year, we've got a stronger squad and the competition is there.
"If there's competition in training then the training is intense, and then you have the pressure of a weekend that if you don't put in good performances then your place is maybe up for grabs."
Right now it is hard to envisage a situation where Robertson's place is up for grabs. The boy from Glasgow has come through a lot in his career already, now he's hoping to confirm his place as one of the Premier League's best.