Arsenal
Forget Alexis! Supersub Giroud is now Arsenal's most valuable player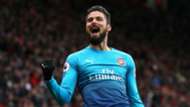 While everyone associated with Arsenal is talking about Alexis Sanchez and Mesut Ozil ahead of the January transfer window, it is another player that the club should be doing everything to keep: Olivier Giroud.
The Frenchman proved his worth yet again with an excellent cameo appearance for the Gunners against Southampton on a freezing afternoon at St Mary's on Sunday, heading in the equaliser for Arsene Wenger's side after a pin-point cross from Sanchez.
No player has scored more substitute goals for a single Premier League team than Giroud, as his late leveller moved him alongside Manchester United legend Ole Gunnar Solskjaer at the top of that particular table, with 17 goals.
The 31-year-old admitted at the start of the season that he came close to leaving Arsenal in the summer following interest from the likes of Everton and West Ham. Talks with the Toffees were particularly advanced and their manager at the time Ronald Koeman revealed that he had Giroud "in the building" only for the striker to change his mind and opt to stay in north London.
It was a decision which has benefitted Arsenal enormously, as there is a dearth of top quality strikers capable of making such an impact from the bench. Indeed, Arsenal have claimed 10 points from losing positions already this season - no club has racked up more - and Giroud is directly responsible for four of them.
Against Southampton, those who have previously questioned his ability to lead the line from the start were once again been left to rue their words, with the former Montpellier man showcasing his ability to contribute in vital moments with his late goal.
Furthermore, Giroud's intervention rescued a point that Arsenal barely deserved. They had been all over the place at St Mary's, finding themselves a goal down inside two minutes.
The obvious lessons that should have been gleaned from the 3-1 defeat to Manchester United the weekend before clearly weren't taken on board by the players, who were sloppy in positioning and found it difficult to penetrate the Southampton defence after Charlie Austin's opener.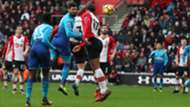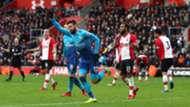 Moving to four at the back would have given Wenger's side an extra man in midfield to help create chances but it wasn't until 25 minutes to go that the French coach began to ring the changes, bringing on Danny Welbeck for Per Mertesacker, shortly followed by the introductions of Wilshere and Giroud.
It's interesting to note for that for the second consecutive game wantaway Sanchez was the player who lost possession the most (32 times). His wayward distribution can be put down to the Chilean being a risk-taking attacker who tries to make things happen, but it is a worrying trend that many of the counter-attacks Arsenal are hit by come after their so-called star player loses the ball.
Indeed, Alexis' cross for Giroud's goal will be used by his most ardent supporters as evidence as to why Wenger decided to leave him on the pitch while taking off the ineffective Alexandre Lacazette instead.
But while Sanchez flirts with the possibility of leaving Arsenal in January, Giroud looks equipped to once again take over the baton as the Gunners' main man.
It's crucial that Wenger holds on to his supersub going into the crunch part of the season but questions remain over whether the player himself will want to spent more time on the bench at Arsenal given he would be guaranteed more game time elsewhere, particularly as he is desperate to make the France squad for next summer's World Cup.
The Gunners cannot do without him, though. At the moment, Giroud is quite simply Arsenal's most valuable player.