PSL
Footballers investing in their futures- A life coach's perspective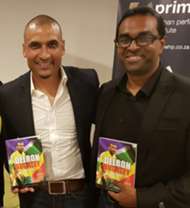 When it comes to the issue of footballers finding themselves destitute after their playing days, it is usually due to the player being ill-advised or in many cases not having anyone to advise them at all during their playing days.
That is why in the modern day as science and technology are further utilised to develop high performance athletes, the need for professionals who deal with matters such as the psychological well-being of an athlete becomes even more important, and in terms of finances, there is certainly a link between the psychology of a player and his spending patterns which makes having the right people at an athletes disposal so important.
Nonetheless, as Goal begins to wrap up its campaign on creating awareness for such a pertinent topic which is plaguing the football community, we spoke to prominent life coach Myan Subrayan who shared some insights as to why footballers and professional athletes find themselves in such dire straits, and how being surrounded by the right people can benefit an athlete in the long-run.
Subrayan, who is a well-known speaker, life coach and author has worked with many of South Africa's most elite athletes in a variety of sporting disciplines. But most notably, when it comes to football, he is the man behind Bafana Bafana legend's Delron Buckley's biography as well as an advocate for change making him an ideal voice to listen to.
As Subrayan plucks away at the many questions posed to him regarding the issue at hand, what is apparent in his assessment is that destitution after a player hangs up his boots is solely down to the player and those who he surrounds himself with.
"Inadequate planning and poor advice from people around them," Subrayan tells Goal are the reasons that footballers find themselves in the rummaging through the barrels of poverty post-retirement.
"Firstly, the player needs to be aware of everything that's happening. Of course, get trusted people that come with references but still know what's happening. Also get a second and a third opinion and don't just rely on one," he added. 
While the Billions plunged into the beautiful game has benefitted players who are now able to reach the levels of instant stardom in a matter of moments, it has indeed corroded some of the game's better values. Living in the lap of incredible luxury and 'keeping up with Joneses', or in the football context 'keeping up the Cristiano Ronaldo's or Paul Pogba's of this world' are only but some of the pressures that a footballer needs to deal with on a daily basis, but Subrayan on the other hand does not believe that such issues are only limited to the football world.
"The pressures experienced are the same (for many other professional sporting codes) that is from fans, media, management and their family," Subrayan added.
While the responsibility falls firmly on the shoulders of the player and his advisers, Subrayan does believe that the relevant authorities need to play a bigger role by educating players, and even suggests that perhaps they should follow the example of some European clubs where players are provided with adequate fall-backs.
"Safa and the PSL should make it mandatory for financial education and basic planning to be implemented. In Europe, clubs have compulsory pension/retirement contributions for players," he expressed.
Furthermore, Subrayan explains why a life coach is vital for footballers and not just at the end of their playing days. 
"Life coaches Assist with planning for during and after their playing days. They assist with handling the pressures experienced and how to cope with the stress, they aid in goal setting and achieving it, and they provide a sound board for advice.
This is certainly key in a career where so-called friends do not always have a person's best interests at heart.
"I say where there is honey there will always be bees....so surrounding yourself with people that will assist you to achieve your goals is crucial," he said.
When it comes to saving though, Subrayan insists that it cannot be left until just before retirement. He encourages players to invest or save from the day they start their respective careers.
"You should have started (saving) yesterday, Subrayan says jokingly.
"Know that you are retiring from but retiring into. Yes, your playing days may be over but be optimistic that this is another chapter to your life," he emphasised. 
Subrayan also offered an insightful and holistic approach to alleviating the recent scorn of footballers falling into the trap of destitution.
"Education from the beginning," he reiterates.
"Players should be put onto basic financial planning and education courses so that they have some basic info and knowledge.  Mandatory savings with contributions from players and clubs and even the league or Safa. After all, the league and SAFA benefit from the media and advertising rights so it should be giving some back to the players. I know that each club in the respective professional leagues get an amount given - but some of it should go towards players retirement. Also, use life coaches to assist players with planning properly.  
Lastly, Subrayan one again iterates the importance of choosing your advisors wisely and not leaving your financial decisions until it is too late.
"Get independent, non-biased advice and help with planning for your current and future," was Subrayan's parting advice.
"And make sure you plan adequately for life after playing.  Don't leave it too late - start now," he concluded.