FIFA Club World Cup
Five titles in 2017 for Madrid but beating Barcelona key to a Happy Christmas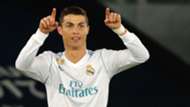 Real Madrid have made it an historic 2017 with five titles won across the calendar year – a feat never before achieved by this great institution.
Domestically, they won La Liga and the Spanish Super Cup. In Europe, it was the Champions League and the Super Cup. And here, in Abu Dhabi, four became five with the addition of the FIFA Club World Cup for the third time in four seasons.
Zinedine Zidane takes his place alongside Luis Molowny as Madrid's second-most decorated manager. Only the great Miguel Munoz is ahead of the Frenchman. That is some achievement considering it is not yet two years since he replaced Rafael Benitez at the helm.
There is no doubt that the addition of this title had weight in the corridors of the Santiago Bernabeu. Madrid appeared sluggish against Al Jazira in the semi-final on Wednesday but this was the real thing against Gremio in the final.
"When you win a trophy it's always special," Toni Kroos said. "I think it was a tough game. We knew they are way better than Al Jazira for example and they played a good first half. I think we felt on the pitch that they got tired a little bit in the second and everything was a little bit more easy but first you have to work to score and at the end you have to finish. But we deserved it."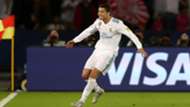 There is always a danger for European teams in this fixture to be caught cold by the intensity provided by their South American counterparts. The Club World Cup means a lot to South American teams, as evidenced by the throng of Brazilians that made it to the United Arab Emirates to witness this game.
However, Madrid had enough to see off the threat of a very good team with what should rank as one of their most complete performances of the season.
We'll get to Cristiano Ronaldo shortly but a word first on Luka Modric. There is not a midfielder in the world operating on his level. A lot of his work goes unnoticed – providing the platform for his attackers to wreak devastation – but someone this good deserves close attention. His range of flicks and space-conjuring touches are unmatched.
He tilts the full pitch at his will through his clever view of where gaps are going to appear. Then there are the dribbles which earn Madrid more space in the frontline. He was unlucky not to score with a shot that cannoned off the post but that won't bother him. He was the best player out there even if he won't see his name in lights.
Again, that honour is reserved for the irrepressible Ronaldo. He bludgeoned the equaliser against a stubborn Al Jazira on Wednesday and gave Madrid their platform to win the tournament overall.
There is a faint ridiculousness to the manner in which he demands the attention when shaping up to take a free-kick. It more often than not ends up in the stands despite the elaborateness of the preparation routine.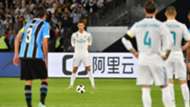 But there was no one in Gremio blue laughing when his free kick beat Marcelo Grohe. He had to put up with the opposition manager Renato Gaucho reiterating his claims to be a better player before this encounter. If that was designed as a psychological ploy, well, it failed.
He had to listen to Diego Maradona too who said Ronaldo was "taking the p*ss" if he thought he was the best player of all time.
In a sense, he had to back up those claims he made after gaining the Ballon d'Or for a fifth time. He can talk the talk but boy can he walk the walk.
Five Ballons d'Or for Ronaldo and five titles for Madrid and Zidane in 2017. But before they put their feet up and enjoy the festive season there is the small matter of the Clasico. On December 23, they will square off against their great rivals Barcelona in a crucial La Liga showdown at the Bernabeu.
Their status as five-time winners in 2017 will give them a little spring in their step no doubt but more valuable than silverware on the day will be the reduction of the gap in the league table to five points.
"We are a little bit behind in the league," said Kroos. "Maybe we can close this a little bit in some days but we will still be behind so it's going to be difficult to win the league for sure. 
"For this game you don't need anything special before or any motivation or anything. It's better to go with a good feeling back to Madrid but this game is special whatever happens before."
Only a win will do lest Barca get too far out of sight. It's job done as far as the Club World Cup goes and next it's time to give Barca white Christmas.