Real Madrid
Fernando Morientes: Passion makes La Liga the best league in the world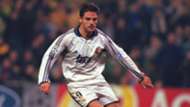 With three Champions League titles to his name, Fernando Morientes is no stranger to success and despite playing in the famed Galacticos era, he carved a niche for himself at Real Madrid where he truly flourished as one of the best strikers of his generation.
In his one season with Monaco on loan from Madrid in 2003-04, Morientes inflicted much damage to his parent club scoring against them in both legs in the quarter-finals of the Champions League before finishing as runners-up to Porto. 'Nando', as he was fondly called, however did finish top of the goal scoring chart in the competition and later went on to represent Liverpool, Valencia, and Marseille in a glittering career where he was also Spain number's one striker along with Raul Gonzales, before the era of Fernando Torres and David Villa kicked in.
Now an ambassador for La Liga trying to establish its brand and outreach around the world, El Moro was in Singapore on Thursday to launch its office in the Lion City along with the league's president Javier Tebas, former Real Madrid defender Fernando Sanz and 2016 Rio Olympic Badminton Gold Medallist Carolina Marin.
Javier Tebas: La Liga alter kick-off timings to suit Asian audiences
Playing with the local kids and players at the Padang playing fields facing the National Gallery of Singapore, the 40-year old's energy was palpable. 
"Football of course is much more than what we see on the television, there is much more work done behind the scenes. If you want to improve the local teams, you have start from the grassroots and start slowly. So maybe you need a good manager and a good project rather than sending the Asian players to play in Europe," he says, debating the need to send Asian players to Europe amidst the never-ending discussion about the development of players in this part of the world.
Coming back to his own career, had he not lost to Porto in 2004 and not been cup-tied for Liverpool the following season, Morientes would have had five European titles to his name – more than Lionel Messi and on par with Milan legends Paolo Maldini, Alessandro Costacurta and Real Madrid legend Alfredo di Stefano.
A legend in his own right, Morientes did share the dressing room with superstars such as Zinedine Zidane, Luis Figo, David Beckham, Ronaldo, and Raul Gonzalez during his time at the Santiago Bernabeu.
So, what was it like sharing the dressing room with these guys?
"Very normal, at least for me. Maybe you think because of the social media that they are very different but in person and in reality, they are just like you and me," he is quick to point out.
The Spanish League has been dominating the European circuit for quite some time and with continuous success of its teams in the Champions League and the Europa League, it is arguably the best league in the world right now. With La Liga clearly dominating the UEFA co-efficient points and way ahead of Bundesliga, Premier League, and Serie A, Morientes offered an interesting explanation about its resounding success.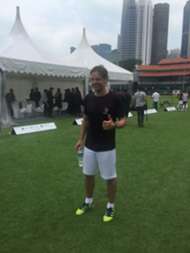 "There are some things you can't buy and passion is one of them. When you see this big space (he points to the empty green field below the terrace where we are seated), it is very strange for me as a Spanish person because if it were Spain, this ground would be full of children playing football. If you do something every day, you are naturally going to be good at it and you put a lot of passion in it which probably explains why La Liga is so good," he says passionately.
Spanish football's dominance depends on Ronaldo and Messi - Ferguson
Having played in France and England apart from spending most his career in Spain, he is one of the few successful players who can truly understand the difference in the footballing cultures of these countries that are very different in their style of play and philosophy. 
"As you can understand, weather is a very important element for any player. That's a major difference between playing in France, Spain, and England because the weather is very different in each of these countries. Also, passion of the people in these countries are very different. Of course, you end up playing with players of certain level who are top class anyway, so the major difference is in the passion, culture, and people of the country that you play in," he points out once again offering an interesting but thoughtful explanation.
A classic striker, along with the likes of Filippo Inzaghi, Ruud Van Nistelrooy, Roy Makaay and David Trezeguet, Morientes was right up there as the typical fox in the box who would never let go of an opportunity to score – regardless of the quality of the goal.
The game however has changed since his retirement and so has the role of the striker with the likes of Carlos Bacca in AC Milan regularly criticized for not providing much in terms of creativity despite having an excellent conversation rate.
The former Spain international however begs to differ.
"Number nine has always been very important in any club because he is the one who scores the goal. At the end of the day, goals are the reason we play the game so it has always been important and the role of the striker will never change," he concludes with a wide grin very reminiscent of the joy he showcased each time he put the ball at the back of the net throughout his successful career.