AFC Cup
Felda's first foray into the AFC Cup is a mixed bag of performances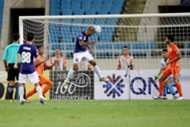 Felda United's maiden voyage into the AFC Cup ended on Wednesday night after a crushing 4-1 defeat at the hands of Vietnam's Hanoi FC meant that they fail to progress past the group stage of the 2017 competition.
Overall, the Fighters collected five points from one win and two draws but crucially, lost both matches against Tampines Rovers which put paid to their hopes of reaching the next stage of the competition.
They remained undefeated in the two matches against group winner, Ceres-Negros FC - holding them to a 0-0 draw in Philippines before handing them a 3-0 thrashing at Shah Alam Stadium.
When you compared that with the two big defeats suffered at the hands of Tampines, 1-2 away and 1-3 at home. The six points that the Singapore side manage to gather throughout their participation in this season's competition all came from matches against Felda. 
B. Sathianathan's experience showed that he can bring his side to match the best in the region against teams from Philippines and Vietnam but surprising defeats to Tampines was too big a cost for his side to bear.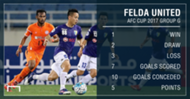 The departure of good players like Syamim Yahya, Christie Jayaseelan, Lutfulla Turaev, Thiago Augusto and Francis Forkey Doe had a big impact on the make-up of the squad. The replacements are not of a significant quality, at least not in the immediate season.
It was hard to expect Felda to perform as well as Johor Darul Ta'zim (JDT) did in their own first season in the AFC Cup but besides the disappointments of leaving the competition early, there are also positives which Sathianathan can work with.
The performances of Norshahrul Idlan Talaha throughout the competition is one of those. The national striker has had a torrid couple of seasons but looked to have found his footing again, under the guidance of Sathianathan.
The likes of Hadin Azman, Syahid Zainon and Fazrul Hazli are inconsistent are on their day are capable of terrorising defences across the region.
For now, it's back to the drawing board for Sathianathan as he concentrates on the remaining matches in the Super League and Malaysia Cup. With lesser games to play, the wily head coach will now have the chance to work with his team more and ensure that they finish the season on a high.