Fazrul Nawaz
Fazrul Nawaz; from wayward teen to forward thinking footballer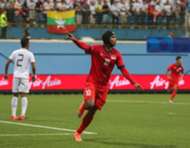 He left school at just the age of 16 without a solid education to pursue the sport he loves dearly. For Hougang United's Fazrul Nawaz one can look at his footballing career and say he hasn't done badly at all. After all this is a player who has two AFF Suzuki Cups under his belt.
However as he approaches the twilight of his career, the 33-year-old believes the decision to leave school without a proper education is coming back to haunt him. Realising how competitive the world outside football is today, Fazrul has decided to take steps to ensure he is not left behind. Indeed this has resulted in him being the first study grant recipient, of a memorandum of understanding signed between Football Association of Singapore (FAS) and Private Education Institute, PSB Academy.
Significantly, the memorandum of understanding will offer all registered football players and staff at FAS study grants for the Academy's range of certificates, diplomas and university partner degrees.
In an interview with Goal Singapore, we asked Fazrul how he felt being the first recipient of such an initiative and his thoughts on its importance.
"I feel excited and thankful for this opportunity. Also, I am thankful to FAS to help footballers such as myself and also PSB (Academy)," mentioned a smiling Fazrul.
"But in the bigger picture this is a win-win situation for local footballers as a whole. Because many footballers do not have strong qualifications."
"Also many of us ask are shy to come forward and ask for chances to upgrade our skills. Above all, at the end of the day, strong qualifications are needed to make a living in Singapore, because football will only get one that far."
At 33 Fazrul is in the twilight of his career and realises he needs to plan for life outside football. Hence, it makes such initiatives even more important as it allows footballers to seek a living outside the game.
"Such an initiative is very vital for footballers at my age. It creates a strong realisation that they need to plan for life ahead."
"But what I want to see is more footballers coming forward and taking up the initiatives that allow them to compete in the outside world."
"And not just only that. Even for the younger generation they need to understand that education is important despite wanting to be a professional. Because once you stop playing and you have nothing, you will only be inviting trouble."
"For example in my case, I can now look to delve into a career concerning sports science once I acquire my Diploma. And that allows me to have something to look forward to once my career is done."
Turning to club matters, Goal Singapore decided to quiz him on Hougang's recent bad run of form.
"To be honest I think the team has good young players who are technically capable but what they are lacking is the experience," explained the two time AFF Suzuki Cup winner.
"That is where I come in and try to use my experience and guide these boys. Yes we are experiencing a bad run but I believe it will improve soon."
Although certain sections of fans believe former coach Philippe Aw's departure is linked to the negative results Hougang is currently experiencing, Fazrul thinks otherwise.
"I don't think so because we still have that same philosophy with coach Philippe but it's more of a confidence issue with the boys."
Meanwhile with the AFF Suzuki Cup taking place in November, there is no doubt the veteran forward will want to make the squad. Goal Singapore asked him what will be needed for him to cement a starting berth in the national team.
"Of course I would love to be in that squad. I am confident I can still contribute but it all depends on the coach."
"On a personal note it's going to be simple for me. I am going to give my best and if the coach feels he needs me to guide the younger players, or he needs a centre-forward I will be the first to raise my hand."
With the Lions drawn into the group of death with the likes of Indonesia, Thailand and Philippines and Fazrul having won the competition twice, we questioned him on what will it take for Singapore to have a deep run in the tournament.
"Obviously it is not going to be easy. Most of our regional rivals have advanced greatly. Notably, we need hunger, desire and teamwork."
"Teamwork was what won us our last (AFF) Suzuki Cup. Also we need to take one game at a time and not pressure ourselves."
"Tactically Singapore is one of the best teams in Southeast Asia. Once we get going our rivals are going to find it hard against us. So I am confident we can experience a positive campaign."