Kiko Insa
FAM rules in favour of Kiko Insa on contract wrangle against Pahang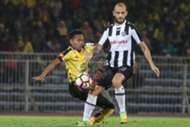 The Status Committee of Football Association of Malaysia (FAM) announced on Thursday that they have ruled in favour of Francisco 'Kiko' Insa Bohigues in his case against Pahang Football Association.
Pahang now have 14 days to pay USD40,000 to Insa should they choose to accept the decision. The association however still reserve the rights to contest and appeal the decision.
Insa has cancelled his contract with Pahang after just one season, despite it being a season that saw him capped by Malaysia's national team.
It has been a mixed reception Insa in his time with Pahang - some would remember the hard man fondly while others may remember his costly red card that turned the 2017 FA Cup final in favour of eventual champions, Kedah.
Now without a club for the new season, Insa would not be short of suitors given his international status. The 29-year-old may yet opt to stay in the M-League, particular given that he still harbours hope of continuing with the Malayan Tigers.
The local teams may face a fight on their hands as Insa had previously spent two years in Indonesian football, with the Arema FC fans in particular constantly clamouring for him to return to the club.