Premier League
Fabinho's Liverpool awakening & five Premier League tactical lessons we learned this weekend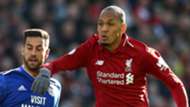 By Monday morning we know all about the brightest stars of the weekend action – who scored the goals, who made the glaring errors – but often the most important tactical plots haven't cut through.
Here, Goal  looks beyond the obvious headliners and takes a look at five tactical things you might have missed from the Premier League.
---
Torreira's Arsenal role needs a rethink
---
Arsenal did not play with tempo or fluidity at Selhurst Park on Sunday, as Roy Hodgson's deep-lying and compact 4-4-2 limited the visitors to just seven shots on goal.
Crystal Palace deserve credit for squeezing the spaces Mesut Ozil likes to operate in, but the main reason Arsenal stuttered was a lack of penetrative link-up play deeper in midfield. Lucas Torreira, playing alongside Matteo Guendouzi, was too disconnected from Ozil and the Gunners wingers.
What Unai Emery needed was to overload the middle of the pitch, which would have tested the solidity of Palace's two-man midfield and sucked the hosts inwards, thus freeing up room for Alex Iwobi and Pierre-Emerick Aubameyang on the flanks. Instead, they passed the ball in a U-shape around the Palace shell, with Torreira rarely looking to help Ozil.
The graphic below shows the Uruguay international's completed (black) and failed (yellow) passes against Palace. Torreira completed just six passes in the final third, and yet the one time he did venture forward it led directly to the Arsenal equaliser. Early in the second half he received the ball in the number 10 space and flicked it out wide, setting up an attack and sending a ripple of applause through the crowd. Spurred on, within seconds Torreira won a free-kick deep in the Palace half and Granit Xhaka fired Emery's side level.
Arsenal have struggled to defend counter-attacks this season, so the manager's use of a double midfield pivot is understandable. However, Emery needs to find a better balance for Arsenal to push on - and that means freeing Torreira to play a box-to-box role.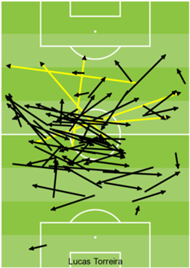 ---
Howe switch exploits Fulham's weaknesses
---
Throughout the campaign, Fulham's dreadful defensive record has primarily been the result of their overall width; poor Kevin McDonald, a lone defensive midfielder, has to cover a huge area of the pitch all by himself. Bournemouth manager Eddie Howe dramatically altered his tactics on Saturday to exploit this weakness, fielding David Brooks and Ryan Fraser as inside forwards in an Antonio Conte-esque 3-4-2-1.
Both players have been instrumental in Bournemouth's excellent start, making Howe's transition to counter-attacking football a smooth one. However, they don't normally play as narrowly as they did at Craven Cottage: Brooks and Fraser had a combined 47 touches between the width of the penalty areas in the Fulham half, compared with 15 in their last outing, a 0-0 draw at home to Southampton.
That all-important second goal on Saturday came straight down the centre with Fraser assisting for Brooks, a move that typified Bournemouth's focus through the middle, overwhelming McDonald. It's no wonder he eventually saw red, receiving a second yellow card for a late tackle on Brooks.
---
Fred shines as Man Utd dominate Everton
---
Manchester United's 2-1 victory over Everton on Sunday afternoon was arguably their most fluid, and commanding, performance of the season so far. The midfield was dominant, and while Paul Pogba and Anthony Martial were rightly praised for their swaggering performances, it was Fred who set the tempo (the graphic below shows Fred's completed passes against Everton in black and failed passes in yellow).
The Brazilian constantly looked to pierce the lines, either carrying the ball forward or playing a quick pass to the flanks. Fred's energy lifted his team-mates, helping United swarm the visitors before quickly switching the ball out to Martial on the left; it is a classic Jose Mourinho tactic to overload one side of the pitch before suddenly driving the ball to a touchline-hugging winger.
However, things wouldn't have clicked for United if it wasn't for Everton's aggressive pressing. Most of United's opponents sit back and invite pressure, safe in the knowledge that Mourinho's team are too static to create space - but that isn't Marco Silva's style. By frantically closing down United's midfielders, Everton ensured that one clever flick around the corner (either from Fred or Pogba) was enough to take two or three players out of the game, opening up the pitch for Martial and Juan Mata. This is reflected in the number of fouls Everton made in the middle of the park.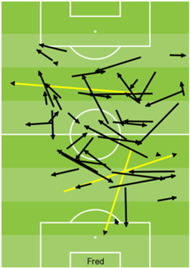 ---
Fabinho's flexibility boosts Liverpool
---
Over the last six weeks Liverpool have been developing a problematic disconnect between midfield and attack. All too often the front three are isolated from a slightly flat trio in the middle, none of whom link the lines particularly well when faced with a deep defensive block. Adam Lallana was picked on Saturday to help address this issue, but Fabinho turned out to be the answer.
He flits around midfield with greater purpose than Jordan Henderson, hitting 87 passes against Cardiff City (shown in top graphic below) – almost double Henderson's average of 45 (Henderson's performance against Huddersfield on October 20 is shown in the bottom graphic below). Fabinho already appears to have developed a strong understanding with Georginio Wijnaldum, too, regularly swapping positions with the Dutchman to create unpredictable patterns in central midfield. This inevitably pulled Cardiff out of their stubborn shell.
Fabinho's defensive work was also solid. It was his sharp tackle in the 87th minute that launched the counter-attack for Liverpool's fourth goal, capping an excellent all-round performance.
---
Deulofeu & Success run riot for Watford
---
After four matches without a Premier League win Watford have recorded back-to-back victories to cement their place in the top half of the table, and the key to their upturn in form is Javi Gracia's bold decision to swap out both of his strikers. Troy Deeney suffered a hamstring injury and top-scorer Andre Gray was dropped, with Isaac Success and Gerard Deulofeu coming in.
The real masterstroke was playing Deulofeu as a number 10. The Spaniard is revelling now that he sees plenty of the ball, his excellent close control making him ideal for quick breakaways through the middle of the park. The former Barcelona player scored the second goal and was a menace throughout, combining with Success a total of 10 times, creating four chances.
Regularly rotating positions, with one dropping off and the other making runs on the shoulder of the last defender, Success and Deulofeu both had four shots – and both scored. Here was evidence that Gracia isn't afraid to change things, and that Watford possess the squad depth (and tactical nous) to maintain their good form.