African All Stars
Clumsy and expelled: FA Cup final casts doubt over Moses for Chelsea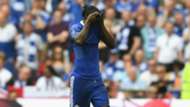 ---
COMMENT    By Solace Chukwu     

Follow on Twitter
---
Saturday's FA Cup victory was the third in four years for Arsenal, who created a number of records in victory. They now have the most wins in the competition and, for Arsene Wenger, the most winners' medals of any manager ever.
His opposite number may have also furthered a record of his own (an unfortunate one, in truth: Antonio Conte is still to win a cup final in his impressive, trophy-laden career), but it is unlikely that this loss would hurt overly deeply.
If anything, knowing the driven nature of the Frenchman, he would have been grateful for a thoroughly atypical Arsenal performance, one full of vigour of purpose. At times in the first half, they battered Chelsea, a fitting preview of what is to come next season when the champions return to Europe.
That it was the Gunners, doomed to contest the Europa League in 2017/2018, that provided it, is richly ironic.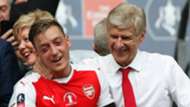 In any case, the saying goes that there is more to be gleaned from defeat than victory. Conte will be concerned more that his team, so seemingly complete in all aspects this season, were exposed so painfully. To borrow from a certain former Blues manager, he could have made 11 substitutions at half time, it was that bad.
He of course cannot evacuate a title-winning side on the basis of one game, but he can (and will) seek to improve it. If performances in games of magnitude are anything to go by, then Victor Moses in particular has cause for concern.
The winger was by no means the worst player on the pitch in blue: unanimous player of the year winner N'Golo Kante chased shadows all game long, and Eden Hazard endured arguably his most ineffectual performance of the season. We could go on all day. However, Moses' display was possibly the most self-mutilating of the lot.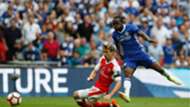 Up against makeshift left wing-back Alex Oxlade-Chamberlain, the Nigeria international was expected to dominate. Only just back from injury, pressed into service in an unfamiliar role, on the wrong side, and with Kieran Gibbs out and Nacho Monreal needed in the heart of defence, the Ox should have been fodder.
Instead, Moses failed utterly to dominate him: he was tentative with the ball, unsettled by the pace and tempo of proceedings, earned a booking for fouling his opposite number, and was sent off for a disgraceful attempt to win a penalty.
Of course, this is not enough reason to toss him in the scrap heap. It is, do not forget, the final game of a long season. Not since 2011/2012 with Wigan has Moses played more minutes (3,229) in a single season than he did this term (3,067), and he has done this while learning a new position.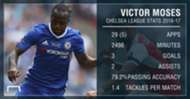 But in truth, Chelsea's early exit from the League Cup, allowing them to focus their energies on the league, meant there was more time spent on the training ground teaching him the particulars of the position. Conte will not have that luxury next season, with four competitions to challenge in, and teams starting to work out how to combat his all-conquering 3-4-3.
Chances are, unfair as it may seem, that if Moses has not worked out the errors in his game by now, he is unlikely to be ready to be Chelsea's first-choice right wing-back next season. This FA Cup final offered a glimpse to Conte, the manic perfectionist that he is, that his biggest individual coaching success may be inadequate when push comes to shove.
This is, after all, a manager who walked out on Juventus, after winning three Scudetti, because he would not make do. He wanted significant investment to take the Old Lady to the next level in Europe, and the club could not immediately oblige.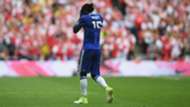 Now, at a club with the financial muscle of Chelsea, enabling greater transfer outlays and higher wages, he has no need to scrimp.
Even if he wanted to, he will no doubt look wistfully to his former employers, for whom a swashbuckling Dani Alves has powered through to a second Champions League final in the three years since Conte departed, and understand just how much of a difference quality at wing-back can make.
Moses' transformation has been one of the stories of the season, but was largely inadvertent, a consequence of a radical change early on in the season. Now, in order to progress, Conte and Chelsea may well feel they must take deliberate steps to upgrade in a specialist position.