WTF
EXTRA TIME: Watch the best or worst own goal ever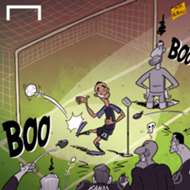 Have you ever seen a strike as good or bad as Gulfo's here?
This goal has everything - close control, poise with perfect timing and execution... if only it was in the right goal net.
What was Gulfo thinking? We leave that to you to figure out. The teams were locked on 3-3 in the Cup semi-final, and then Gulfo's team, Pully won 4-3 in the penalty shootout.
Pully are set to meet Malley in the final on May 25, but there's no way he can top this amazing moment!