Africa Cup of Nations
EXTRA TIME: Watch Nigeria and Algeria train for Afcon 2019 semi-final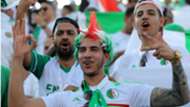 The excitement is building as the  Africa Cup of Nations is reaching a climax and in these videos, you can clearly see both the Algerian and Nigerian camps are buzzing ahead of their semi-final on Sunday.
Firstly, we have a look at the enormous amount of Algerian fans watching the Desert Foxes in training in Egypt. We also have a number of close-up training videos of the Algerian players.
There is another video of coach Djamel Belmadi getting a great ovation before training.  We also included an older video of Manchester City star Riyad Mahrez interacting with Algerian fans during an earlier training session.
Then we have a number of training videos from the Super Eagles camp. Finally, Goal produces a video of former Nigeria stars Nwankwo Kanu and Victor Agali visiting the Super Eagles training camp.
Algeria in training for their AFCON 2019 semi-final against Nigeria. pic.twitter.com/Kt4bRlWjgV

— DZ Football (@DZFootball_en) July 13, 2019
Algeria fans came to watch the national team train in Cairo today. pic.twitter.com/CDUvDydrLW

— DZ Football (@DZFootball_en) July 13, 2019
👏 | Djamel Belmadi received a round of applause at Algeria training today. pic.twitter.com/bICW474MBf

— DZ Football (@DZFootball_en) July 12, 2019
🇩🇿 | Riyad Mahrez interacting with the Algeria fans during training.

🎥 @dzfootpro pic.twitter.com/HDsotCBSFk

— DZ Football (@DZFootball_en) July 5, 2019
We r are LIVE at the Nigerian Super Eagles training session.....Here's a hint as to who I'll be chatting to later on #marawatv #MarawaMoments #TotalAFCON2019 pic.twitter.com/H9TjA1UlTW

— robertmarawa (@robertmarawa) July 12, 2019
The Super Eagles @NGSuperEagles in training ahead of their Semi Final clash vs the #desertfoxes of #algeria
Coming up on https://t.co/HHfUPYDEqB
Link in bio
Video by (YouTube/Nigeria Super Eagles)
#afcon2019 #soarsupereagles #totalafcon2019 #eaglestracker #team9jastrong 🦅🇳🇬 pic.twitter.com/GcCriK0DuP

— EaglesTracker (@EaglesTrackerNG) July 13, 2019
Boost for @NGSuperEagles as @papilokanu and #VictorAgali pay surprise visit to training ahead of #Algeria clash #TotalAFCON2019 😍⚽️ pic.twitter.com/NPHH9vNcVR

— Goal Nigeria (@GoalcomNigeria) July 12, 2019