Africa Cup of Nations
EXTRA TIME: Watch Algeria parade Afcon 2019 trophy as celebrations continue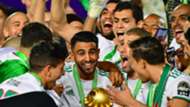 Less than a day after the Desert Foxes lifted the Afcon trophy in Cairo, they've already touched down back home in Algeria.
We have provided you with videos of the team parading the trophy on their bus for their local fans. There are a number of videos thanks to the fans in Algeria.
First, we also take a look at a few reactions from key players from the final, including losing finalist, Sadio Mane of Senegal.
There is an interview of goalscorer Baghdad Bounedjah after the game. For those who missed the game, or want to see it again, Caf posted the highlights.
We also added a bigger collection of reactions from Algerians after winning Afcon, including a video of Palestinians supporting the Desert Foxes while watching the final on a big screen in Gaza.
The Algerians were very popular in Paris as usual, looking at the amazing following there too.
Tough times at the moment 😭 pic.twitter.com/A12BjMtnyl

— Sadio Mané (@10SadioMane) July 20, 2019
🇩🇿 Baghdad Bounedjah after winning #AFCON2019: "We play for Algeria, we don't play for money, we don't play for fame. When I enter the stadium, I only play for Algeria, I have nothing else I play for." pic.twitter.com/b9V7v2Nr0V

— Walid Bylka (@bylka613_) July 20, 2019
This is how Algerian supporters watched the match at Stade 5 Juillet today. pic.twitter.com/rGWJPq5fIg

— Maher Mezahi (@MezahiMaher) July 20, 2019
An incredible image of the #Algeria squad praying on the pitch after their #AFCON2019 triumph

(📸 Giuseppe Cacace/AFP) pic.twitter.com/ukL07tLZyt

— Joe Krishnan (@joekrishnan) July 19, 2019
🇩🇿🥇🏆🇩🇿 pic.twitter.com/FbCYsxtyNu

— Riyad Mahrez (@Mahrez22) July 19, 2019
10 years ago, Rafik Halliche was part of the Algeria squad that lost a tense World Cup qualifier vs Egypt at the Cairo International Stadium. 10 years later, in that very same stadium, Halliche won the 2019 Africa Cup of Nations! An incredible journey #AFCON2019 #LesFennecs pic.twitter.com/kqVur9C3ai

— Walid Bylka (@bylka613_) July 20, 2019
Not very intelligent when pundits keep saying PlayerX should win Ballon d'Or just cos they could win a tourno. They say so before & during the tourno. One can lose a Cup & perform better as an individual than any1. Otherwise my wife can choose Ballon d'Or without watching a match

— Ignat Football (@IgnatFootball) July 19, 2019
The humility and respect of both these teams really should be admired.

— yusuf variava (@yusuf_variava) July 19, 2019
Sorry Senegal 🇸🇳 💔

— Julius Sello Malema (@Julius_S_Malema) July 19, 2019
The Senegal Football Team making dua together after being defeated by Algeria in the #AFCON2019 Final.

A reminder that we should be grateful to Allah for our blessings, even if they did not turn out the way we expected. pic.twitter.com/AURPgtrm4e

— ∙ (@Alhamdhulillaah) July 20, 2019
Forget cricket. Forget tennis. This is how Blackstock Road celebrates Algeria winning at football... pic.twitter.com/7KmRTbzMmc

— Rob Hastings (@robhastings) July 14, 2019
Algeria are Champions of Africa! 🏆

Worldwide Scenes: Montreal, Canada 🇨🇦 pic.twitter.com/lLJyIAtkVU

— COPA90 (@COPA90) July 19, 2019
🇩🇿 Freestyle CAN 🇸🇳#Algeria #Senegal #CAN2019 pic.twitter.com/tBHTTuIQcp

— Dasser (@Dasser9) July 19, 2019
Scenes from Gaza last night. Looks like people gathered in larger numbers to watch the AFCON final and cheer on Algeria than they did five years ago to watch Palestine qualify for their first Asian Cup

Algeria is no longer Palestine's second team- it's its first 🇩🇿⁩⁦♥️⁩⁦🇵🇸 https://t.co/kOEubg2SsV

— Football Palestine (@FutbolPalestine) July 20, 2019
Merci #LesFennecs
Merci #LesVerts
Merci #جمال_بلماضي #Algeria #كأس_امم_افريقيا_2019 #CAN19#الكحلـوشة pic.twitter.com/XsqILt1s3R

— YAHI ABDERAZEK (@jioweb20) July 20, 2019
welcome back 💚❤ 🇩🇿 #LesFennecs #محاربي_الصحراء pic.twitter.com/jLluhaSwcF

— Noor 🇩🇿🇩🇿🇩🇿 (@NourELtHouda) July 20, 2019
En Direct d'Alger c'est le feux🇩🇿🏆😍 #CAN19 #123VivaLAlgerie #LesFennecs pic.twitter.com/VNZiDpXTpC

— Mira Bennacer🇩🇿 (@Mira_gba) July 20, 2019
#Algérie : Gagner une #CAN n'est pas chose aisée. Mais #LesFennecs l'ont fait. Car plus décomplexés qu'auparavant, très encouragés par le vent de liberté qui souffle sur le pays et fiers d'appartenir à un peuple pacifique et civilisé. La honte d'être Algérien est derrière nous. pic.twitter.com/tY6ALQLWDB

— Ramdane (@rmk_juin) July 20, 2019
An early deflected g⚽️al decided the #TotalAFCON2019 champions for tonight and it was non other than #LesFennecs !🎉🏆

In case you missed the historic moments check the highlights only here👇😉#FootballTogether#CelebrateAfrica pic.twitter.com/tPnOZdIFew

— CAF (@CAF_Online) July 19, 2019
Your tears are precious Dear warrior, We are proud of you @YoucefAttal Forza #TotalAFCON2019 #LesFennecs 🔥🇩🇿🙏 pic.twitter.com/jzLfQdynl6

— Salah Eddïne (@ELGAMBINO21) July 13, 2019