Siyabonga Nomvethe
EXTRA TIME: South African football reacts to Nomvethe's retirement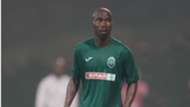 Siyabonga Nomvethe is amazingly still playing at the age of 40 this season, and will continue to do so until he turns 41 in December.
Right now he is playing for AmaZulu, but over the last two decades he has represented South Africa at the 2002 Fifa World Cup in Japan and South Korea. Then at club level the highlights of his career were in Italy with Udinese and Empoli. 
"It's time for the youngsters to take over. Football is about playing with the heart," Nomvethe said at a press conference on Friday.
"I have done my part. I am very happy. It is time to say goodbye," he added.
"Thank you to everyone who supported me along the way," he said.
Here's how his fellow PSL stars, agents and clubs reacted to the news on Twitter.
Thank you Mdala for the years playing against and with you.I was a true privilege to share the pitch with you.I wish you all the best in retirement.God bless you my friend.#Legend#Friend#Truegentleman. pic.twitter.com/NQAtsPeeDR

— Marc Van Heerden (@MarcVH08) September 14, 2018
What a career!! https://t.co/i8u7p2z9xW

— Michael Morton (@MMORTON6) September 14, 2018
LEGEND all the best in the new era pic.twitter.com/rLStcFOFbC

— Lennox Bacela (@lennoxbacela) September 14, 2018
An example to all, consummate professional. Congrats on an outstanding career. https://t.co/YVccRUoJe4

— Julia Stuart (@JuliaStuart_SA) September 14, 2018
Proud to represent these two fine gentlemen! https://t.co/nh5mias6eB

— Mike Makaab (@MikeMakaab) September 14, 2018
#Bhele #Legend #Respect cc @AmaZuluFootball  pic.twitter.com/sNcHfPbQWl

— Luthando Zibeko (@LuthandoZibeko) September 14, 2018
All the best, Bhele! You have always been a shining light from KZN. We salute you. https://t.co/4EmJTV1Aqp

— Maritzburg United FC (@MaritzburgUtd) September 14, 2018
What an illustrious career!#Salute https://t.co/6cbDJEXQTI

— LEBO MOTSOELI (@LeboMotsoeli) September 14, 2018
I still remember their first game in the PSL at African Wanderers vs @KaizerChiefs at Kings Park in 1997. Bhele, Rhee & BMX were on fire that day. They lost 4-3, Tholumuzi Blose was in his element. Bhele!!! Legend of legends! @AmaZuluFootball https://t.co/owAjp5VAdA

— Velile Mbuli (@Veli_Mbuli) September 14, 2018
We are at AmaZulu this morning for a major announcement. Stay tuned...

— Myron Naicker (@myronnaicker) September 14, 2018
Professionalism and discipline. https://t.co/pKq3RqiUz7

— Mars Ndlovu (@MarsNdlovu) September 14, 2018
#FarewellBhele pic.twitter.com/0Rt0UkuXVH

— AmaZulu FC (@AmaZuluFootball) September 14, 2018
A true inspiration , A Legend , Thank you Siyabonga Nomvethe pic.twitter.com/NsQ66y9qao

— Amahle  (@MahleS21) September 14, 2018
Siyabonga Nomvethe has announced his retirement from professional football at the end of the season at the age of 40. Thank you for giving us the opportunity and privilege to manage your career #FarewellBhele pic.twitter.com/MCLE0HDP7g

— Prosport International (@ProsportInt) September 14, 2018
"It's time for the youngsters to take over. Football is about playing with the heart. I have done my part. I am very happy. It is time to say goodbye. Thank you to everyone who supported me along the way," Nomvethe #FarewellBhele

— AmaZulu FC (@AmaZuluFootball) September 14, 2018
Siyabonga Bhele for your patriotic service to the country. https://t.co/beX3uwzLO8

— Mfana kaMshengu (@Mshengu_1) September 14, 2018
The former Bafana Bafana striker's contract ends in December. He will remain a part of the Usuthu squad until then. A match in his honour will be announced soon. #FarewellBhele

— AmaZulu FC (@AmaZuluFootball) September 14, 2018