Barcelona
EXTRA TIME: South Africa reacts to Sundowns costing Barcelona invincible record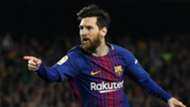 No Spanish team has gone the entire season unbeaten in La Liga in modern times.
Barcelona were so close but chose to rest Leo Messi on the weekend, so that he could play in Wednesday's friendly against Sundowns.
It sounds bizarre but the South African champions paid big money to Barca to travel south across the world. 
Fearing he'd be tired for the World Cup, Messi was rested against Levante on Sunday. They were then astonished to lose 5-4.
It's an all Champion affair when we host Spanish Giants Barcelona on Wednesday night. Are you joining us as we celebrate an icon?

Mamelodi Sundowns Vs FC Barcelona
16.05.2018
FNB Stadium
6:00 PM
#Sundowns #DownsBarca pic.twitter.com/73cznGfnVm

— Mamelodi Sundowns FC (@Masandawana) May 14, 2018
Ernesto Valverde on Sundowns clash: "The friendly in South Africa? We take it as a kind of training, I will do two teams and we will fulfil the club's commitments next week. Not take risks."

Lionel Messi has been left out of Barca's squad to face Levante tonight.

— Joe Crann (@YesWeCrann) May 13, 2018
Barca will leave south Africa disappointed by mamelodi Sundowns fc

Finish n klaar kaboyellow

— Carvin thabo motana (@Carvinthabo88) May 14, 2018
The chest pains from opposition fans on wednesday evening will be UNCONTROLLABLE when Sundowns plays against a FULL-STRENGTH Barca team.

— Moses Nku (@Moses_Nku) May 14, 2018
Barca Rested Messi last night in preparation to get him fit for Sundowns game and they lost 5-4 to Levante....#DownsBarca

— Jay Monokoane (@JayM_Soundz) May 14, 2018
Barca rested Messi for Mamelodi Sundowns. LMFAO

— MO (@K_Basharr) May 13, 2018
Barca bottling an invincibles season just to rest Messi for Sundowns 

— Mbulelo (@Mbu_coto) May 13, 2018
Rested Lionel Messi for the final against Mamelodi Sundowns FC. Respect Barca.

— Siya Hamnca (@Siya_Thiago) May 13, 2018
Barcelona losing to Levante 5-2. Barça crawling back here but too late?

They rested Messi due to a friendly to be played in South Africa this week vs Mamelodi Sundowns to commemorate Nelson Mandela's 100th birthday.

In the end, this is what happens when suits run football.

— Luis Miguel Echegaray (@lmechegaray) May 13, 2018
The Sundowns-Barca friendly is annoying fans from the other side of GP, even calling it "meaningless" as of beer Cup was "meaningful"

Some reporters were praying it doesn't happen & even wrote articles on why it shouldn't happen.

I'm certain few stories are on recycle bin now.

— Pro Philani (@prophilani) May 10, 2018
Guys is Messi coming for that sundowns Barca match ?

— Abiola  (@Ab33zus) May 13, 2018
I dont support Sundowns or Barca my teams are Pirates and RealMadrid..the way some complain about Motsepe spending R100M+ its as if he took Tax payers money .sometimes even as opposition fans we have to be objective about things lets not allow
Hatred cloud our judgment pic.twitter.com/eBmvsLdBvr

— Blessed.. (@shemeni_) May 11, 2018