WTF
EXTRA TIME: How South African fans reacted to Baxter's appointment as Bafana coach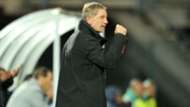 So, Bafana Bafana fans are used to expecting the appointment of the current SuperSport United coach.
It's just that they were hoping for someone better when Safa were stalling on negotiations. No, it will be Baxter for sure.
Still, there's a number of fans (not supporters) who are disappointed but at least found creative ways to poke fun at Safa.
Here's our compilation of Twitter reaction from fans to the South African media. Even Ajax Cape Town joined in.
"Hi, can I speak to Stuart Baxter please, in his capacity as the NOW former SuperSport United Coach??"
RM

— robertmarawa (@robertmarawa) May 4, 2017
From everyone at @ajaxcapetown, Congratulations to Stuart Baxter on your appointment as the new head coach of Bafana Bafana. pic.twitter.com/Xh6aBPcrVL

— Ajax Cape Town (@ajaxcapetown) May 4, 2017
@robertmarawa SAFA and South African government are the same. They are very allergic to accountability. #Baxter

— Thokozani Luvuno (@TokzeN011) May 4, 2017
My only problem with Stuart Baxter is that he doesn't stay at 1 club for more than 3 years & let's face it, we aren't a patient nation too. pic.twitter.com/xUxMLa8DJt

— Tiyani wa ka Mabasa (@TTM16) May 5, 2017
Yaaay!! Stuart Baxter is going to coach Bafana Bafana

Congrats to Yeye, Shabba, Matoho, Masango, Gould, Mashamaite, Godinho, Phala, etc pic.twitter.com/rfjxwfYby1

— BoRn LeAdEr(@keep_risin) May 4, 2017
A million rand per month + crazy benefits , y'all Stuart Baxter better take us straight to World Cup and we must win the next AFCON.

— Jubilee noLigaMo. (@Labrand_M) May 4, 2017
So it took SAFA 6 months to look for Stuart Baxter while he is in the country?

— Sydney Mulweri (@SydneyMulweri) May 4, 2017
The moment I got the news that SAFA has appointment Stuart Baxter ...... pic.twitter.com/TzK7KdaQb4

— Mweli Masilela (@mwelimasilela) May 4, 2017
The episode 01 of #RavensHome will be called "Baxter's Back!". Thank you @DisneyChannel for bringing #ThatsSoRaven back pic.twitter.com/TlajNxrFvb

— That's So Raven (@ThatsRaven) May 4, 2017
By the way, the latest on Stuart Baxter is that he was hospitalised to due a suspected insect bite from SSU's #CAFCL game in Liberia.

— Joe Crann (@YesWeCrann) April 25, 2017