Manchester United
'Everybody is fed up with sour Mourinho' - Pogba part of a bigger problem, says Anderson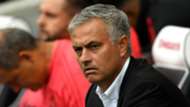 Jose Mourinho's attitude at Manchester United has left everybody "fed up", claims Viv Anderson, with the Portuguese urged to resolve his differences with Paul Pogba.
A testing summer has left the man in charge at Old Trafford cutting a frustrated figure, with there a feeling that he has been denied the backing from his board required to deliver success.
Mourinho's mood has soured as a result, with typically prickly responses being offered to questions regarding reported in-house rows and the "chemistry" of a side struggling for consistency.
Former United defender Anderson fears the end could be approaching for a proven winner, with the Red Devils' issues standing in stark contrast to the positivity being enjoyed at arch-rivals such as Manchester City and Liverpool.
Anderson, who was Sir Alex Ferguson's first signing as United manager back in 1987, told Standard Sport: "Everybody is a little bit fed up of his [Mourinho's] sour attitude.
"Blaming everybody else while Jurgen Klopp and Pep Guardiola are a joy and must be a pleasure to work with.
"Some of the things he's done and said, even last season, left you thinking 'why are you doing this?'
"I know he'll be frustrated because he didn't get the players he wanted, but he has to sort that out internally he doesn't have to be whinging in the press every day.
"I don't know what the outcome will be, but something has to give."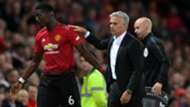 One matter that Anderson feels has to be resolved with a sense of urgency is the ongoing dispute with star midfielder Pogba, with claims from Mourinho that he "couldn't' be happier" with the France international having done little to quash rumours of a rift.
"Mourinho has lots to do, no one is bigger than the club whether that is Paul Pogba or Jose Mourinho, if they have a problem they need to meet up somewhere and sort it out, because Manchester United need to be challenging on all sides," said Anderson.
"They have just got to move on. We cannot spoil the Manchester United ethos. One of them has to be big enough to say 'It's got to be me, I'll leave and let's move on'.
"They have to resolve their differences, you can't have Paul Pogba saying one thing and Jose Mourinho another. He [Pogba] does it on social media the other in an interview.
"I could imagine if this was Sir Alex Ferguson, he would get whoever it was in the office and say 'What's your problem? If we can't sort it out you'll have to leave or I'll have to leave.'"