Africa Cup of Nations
'Everybody can win it!' - Nigeria coach Rohr anticipates tough Afcon 2019 draw despite Egypt miss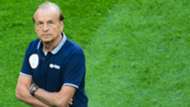 Gernot Rohr is relieved that no outcome at the 2019 Africa Cup of Nations draws will pit Nigeria against hosts Egypt, but believes the seedings is inundated with 'the best teams of Africa'.
Last month, the Super Eagles defeated Javier Aguirre's side - albeit an experimental set-up - in a friendly match. However, the prospects of face Mohamed Salah and Co. has been ruled out after Caf's seedings, released a day before the draws, placed the west Africans and the Pharaohs in the first Pot.
"Of course, we are in the same pot so we cannot meet Egypt because to play the host country is always very difficult especially when you have such a big team like you have here in Egypt," Rohr told Caf.
Senegal, Tunisia, Morocco and holders Cameroon are the other sides Nigeria stand no chance of facing in the group stages at the finals. However, the 2013 Afcon champions will be grouped with any of Pot 2 occupants; DR Congo, Ghana, Mali, Ivory Coast, Guinea and Algeria.
Also, Rohr insists the other pots are filled with potential champions.
"But when you see in the put number two, all the teams are very strong, everybody can win it," he continued.
"You have Ghana, Guinea, Mali, Cote d'Ivoire…only big teams. Even in the third pot, you have South Africa and some teams like that who can be able to win it.
"So really you have in this tournament the best teams of Africa."
Nigeria will get to know their foes on Friday evening, in a glamorous event scheduled to take place at the famous Giza Pyramids in Egypt capital, Cairo.
The Super Eagles have missed the last two editions of the continent's flagship tournament after emerging winners in 2013. They, however, qualified for 2019's edition in grand style, grabbing the first spot in Afcon qualifying Group E.