Ghana
Ethiopia name squad to face Ghana in Afcon qualifier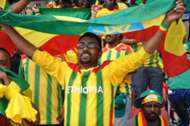 Ethiopia have announced a provisional 29-man squad for their upcoming 2019 Africa Cup of Nations qualifier with Ghana next month.
Coach Ashenafi Bekele's list features two foreign-based players; Shemeles Bekele of Egyptian outfit Petrojet and Oumed Okuri from El-Entag El-Harby of Egypt.
Abdurahman Mubarak, Ame Mohammed and right-back Awet Gebremikael are also set to report to camp for the first time.
Renowned names such as Salahdin Said, Getaneh Kebede, Gatoch Panom, Jemal Tassew and Abel Mamo all made the cut.
Ethiopia, who last played at the Afcon in 2013, face Uganda in a preparatory game on June 3 ahead of the away clash with Ghana six days later.
Sierra Leone and Kenya are the Walias' other group opponents.
The 2019 Afcon final comes off in Cameroon.
Full squad:
Goalkeepers: Abel Mamo (Mekelakeya), Jemal Tassew (Jimma Aba Bunna), Lealem Birhanu (Sidama Bunna), Teklemariam Shanko (Addis Ababa Ketema)
Defenders: Asechalew Tamene (Kidus Giorgis), Abdulkerim Mohammed, Ahmed Reshid (Ethiopia Bunna), SeyoumTesfaye (Dedebit), Tesfaye Bekele, Mujib Kassim (Adama Ketema), Aneteneh Tesfaye (Sidama Bunna), Awot Gebremikael (Ethio-Electric), Addis Tesfaye (Mekelakeya)
Midfielders: Natnael Zeleke, Menetesnot Adane (KidusGiorgis), Biruk Kalbore (Adama Ketema), Ephrem Ashamo,Shemekit Gugesa (Dedebit), GatochPanom (Ethiopia Bunna), Tadele Mengesha (Arba Minch Ketema),Mulualem Mesfin (Sidama Bunna), Gadissa Mebrate (Hawassa Ketema), Shemeles Bekele (Petrojet/Egypt)
Forwards: Getaneh Kebede (Dedebit), Salahdin Said (Kidus Giorgis), Addis Gidey (Sidama Bunna), Ame Mohammed (Jimma Aba Bunna), Abdulrahman Mubarak (Fasil Ketema), Oumed Okuri (El-Entag El-Harby/Egypt)