Emerson Hyndman
WATCH: Red-hot Emerson Hyndman scores again for Rangers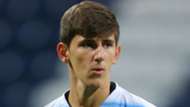 Emerson Hyndman continued his blistering start to his loan at Rangers as he bagged his second goal in as many starts Wednesday.
The 20-year-old midfielder smashed home a botched clearance by Hearts keeper Jack Hamilton off a corner kick which, at the time, drew Rangers level with Hearts.
MLS downplays friction in expansion bid
Unfortunately for the on-loan Bournemouth midfielder, his goal was one of the few bright spots in a miserable night for Rangers. Hearts went on to win 4-1, with Hyndman exiting the contest in the 61st minute.
But one American's unfortunate result was two other Americans' joyful one. Perry Kitchen and Bjorn Johnsen both took part in the Hearts win, with Kitchen going 90 minutes and Johnsen picking up an assist on his side's third goal.
Johnsen received a pass off a quick restart and delivered a hard-hit low cross from the byline across the face of goal and into path of Don Cowie, who tapped it home.