UEFA Champions League
Editorial Q and A: This season's Uefa Champions League should be won by an English club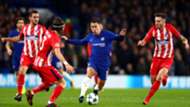 The 2017/2018 Uefa Champions League (UCL) last 16 round draw takes place on Monday, December 11 and Goal's editorial team is already excited about the knockout round.
All five of the English Premier League sides have qualified for the next round, and journalist Yusuf Variava caught up with Goal South Africa editor Ignat Manjoo, who shared his opinion on the tournament's favourites.
IM: You know at the beginning of each season journalists write editorials predicting who's going to win which trophy. They're influenced by done deal transfers and expected transfers coming up in August. Before a ball is kicked, these factors have no actual basis on team performance and evolution. Then after a few games, or even after a team goes through a three-game tricky run, early conclusions are often made. I've seen this happen with Barcelona at the very beginning of this season and with Real Madrid in recent seasons. What we as journalists need to do is, not just look at the results but watch all the matches and notice how certain weaknesses are solved as each club progresses from one week to another. Solutions are found on the training ground. Not by lazily waiting for the January transfer window. It's not the end of the season if clubs have problems at the beginning of a campaign. No team is perfect. Problems can be solved if they work hard at it in training and the Champions League gives you a few chances to pick yourself up. You don't need to have a perfect record. We find that some teams get off to a flying start. However in the Uefa Champions League it's dangerous to reach your peak early, yet I see pundits repeatedly bank on early pacesetters.
YV:  Interesting point. Go on…
IM: Does that mean you're not allowed to win every game 5-0? Of course not. In tournaments, we find that clubs who endure difficult experiences early on, learn from this and they gain from it when tested in the knockout stage. This is why for example a club like Tottenham Hotspur went downhill after the high of beating Real Madrid, and how Liverpool solved their complacency problem after Sevilla came back from three goals down against them. Yet, to the contrary I read journalists write off Liverpool after the 3-3 draw against Sevilla... and others hail the Reds as a serious threat at half-time when they were 3-0 up. That's extreme. We need a true perspective on judging a team's level. Making predictions can be a light bit of fun too, so every season I prefer to make my call in December. It's not a prediction. I've allowed teams a fair amount of time to examine their adaptation to the season.
YV: So, taking into consideration all the points that you have made, who do you think are favourites to lift the coveted UCL title?
IM: I believe that this season's UCL will be won by an English club, or we'd at least see a scenario like a decade ago where there'd be three English clubs in the semi-final. But the likes of Barcelona might still win it ahead of those three (as they did before). One way the dominance can be controlled is if there's a number of head-on EPL clashes in the quarter-finals but I hope that doesn't happen because the UCL is about clubs from one country facing the best from other countries. We've seen enough of the domestic rivalries in the EPL.
YV: From your analysis, there seems to be a definite powershift in Europe as English football seems to be on the up once again.
IM: It's not just about the numbers - five English teams in the last 16. The first factor is ''hunger''. A decade ago English clubs dominated the UCL in terms of positioning in the last eight and semi-finals. But after the likes of Liverpool, Manchester United and Chelsea won it, I could see that the same hunger wasn't there anymore. Of course, each team then went into a transition phase. After that the best Premier League clubs in the competition were not suited to European success. Think of Leicester City and I don't believe Arsene Wenger knows how to win the Champions League (without Thierry Henry).
English clubs struggled for a few years and now there's a newfound, burning desire to prove themselves. On top of that the leading clubs have new coaches in place who know how to succeed in Europe: Jose Mourinho, Pep Guardiola and Jurgen Klopp (well, at least to reach finals). I also believe Antonio Conte's style is perfect for going far in the UCL. As for Mauricio Pochettino, he's also playing the right way, a very similar method as Liverpool but at Spurs he has a better balance, particularly with organizing his defenders. However, the Reds have a higher ceiling in causing destruction against any team, but they can also fall lower with embarrassing mistakes.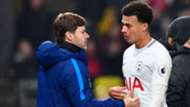 Is Totenham a real contender?
YV: Speaking of English football's recent resurgence, Spurs finished ahead of the defending champions Real Madrid in their group, were you surprised by that outcome?
IM: I wasn't surprised that Spurs beat Real Madrid and won the group. That was a tremendous achievement. With the exception of Manchester City's unbelievable current run, Tottenham's been the most consistent team in the EPL in recent seasons for a reason. It is about time they started to surprise top clubs in Europe. The reason this didn't happen in other years, is not Poch's fault. It's just that they have young stars. They needed to gain experience in the UCL. It's a different type of game to England. They will keep improving but my concern with Spurs is that despite their brilliant results, the club doesn't take that extra step by bringing in established winners. I like their youth policy but you always need one or two experienced champions in there. Their transfer model is similar to Liverpool, but they haven't attracted the likes of a Sadio Mane. The fact that Spurs have performed better than the Reds in recent seasons is all credit to Poch. The obvious reason for Liverpool's stronger pull for bigger names is their historic reputation. A lack of historic success can also weigh on a club psychologically, since Spurs haven't done it in the UCL, it's more likely that Liverpool would win the Champions League, than Spurs.
In the same way Spurs have performed so much better than let's say AC Milan in recent years, but you imagine that if Milan awakes in the years to come, they would also have a higher ceiling. Of course, Spurs fans don't want to hear that. They want to change that history. If they can do it, it might be the biggest story in the competition for a long time. The Champions League needs a new fairytale, instead of seeing Real Madrid and Barcelona trade blows. Do you believe Spurs can go all the way, taking into account their current league form?
YV: In my opinion, there is a vast difference between competing in England and in Europe. In the league, teams are more familiar with each other while in Europe there is still that surprise factor, and with players like Dele Alli and Harry Kane in the squad I wouldn't say it's impossible.
IM: So, do you believe their current run is just a blip?
YV: I wouldn't say it is a blip, but rather their progression in both competitions should be assessed differently. Like I said, domestically there is massive contrast. English teams are familiar with Spurs and it could possibly be a case of not moving with the times i.e. not bolstering their club sufficiently. A similar scenario occurred several years ago when Chelsea lifted the Champions League but were less than impressive in the league.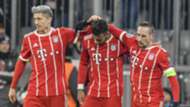 Were Bayern better than Real Madrid last season?
IM: Good point. Or like Leicester reaching the quarter-final last season. Though, going all the way is different. I mentioned the psychological effect above. I wonder if Spurs' players believe they can do it? That's half the battle there. Certain clubs expect to compete for the ultimate title. For example, Bayern Munich. Last year this time I felt they could go all the way, they were the best team in Europe for me. Even though Real Madrid won the UCL, Bayern were the better team even in their clash... if the referees made the right decisions. Things change very quickly these days. Now, Carlo Ancelotti is sacked. Who's talking about Bayern as favourites now? I don't support the sacking of Ancelotti, but Jupp Heynckes has won it before and they can still be one of the best teams. I'd compare their situation to how Real Madrid won it two years ago, replacing Rafa Benitez with Zidane.
YV: Speaking of English clubs and going all the way, do you believe that Manchester City's loss to Shakhtar Donetsk was a case of complacency, or do you think it showed the flaws in their game?
IM: I wouldn't read anything into that. They had already won their group. So Shakhtar didn't face the same City. Even if all the players are the same, if the mentality is not the same, then everything can change. Look at Sevilla again. What changed the game against Liverpool? At half-time their coach Eduardo Berizzo told them that he had cancer. Look at how they fought for him in the second half and drew 3-3. 
YV: Interesting, what other clubs are in that bracket?
IM: One of the most dangerous, hungry clubs is PSG. They're burning to prove they're the best. They want to be considered among the elite. It was the same with Chelsea years ago, and now with Man City. All these clubs learn that during the early years of over enthusiasm, they get over excited and mess up good opportunities to win the Cup. Look at the number of easy goal opportunities they squandered in previous years. Both PSG and Man City's been through that. Their time could be close. It would be an interesting battle if they face-off later in the competition. I think PSG would have the edge. Earlier I said that I fancy the English clubs and City's one of them. However, you don't have to play exciting football to win it. I think Manchester United's got a better chance tactically but as a football lover, you'd want to see Pep go further with his positive football.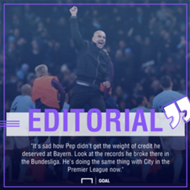 YV: Staying with City, how much of a factor do you think Pep Guardiola's previous success in the competition will play? The Citizens have been seen as favourites previously, but have failed to live up to expectations in past tournaments, do you perhaps sense a change in mindset this season?
IM: Yes, there's already a vast difference. However, most critics will only see it if the team lifts the Cup. The truth is not in the extremes. It's sad how Pep didn't get the weight of credit he deserved at Bayern. Look at the records he broke there in the Bundesliga. He's doing the same thing with City in the Premier League now. What a run they're in! And, they're also winning the ugly way when required. Look at how they dig in for those late winners. This is the mentality of a winning team, they have the characteristics of Premier League champions. For me that's obviously a better achievement than Manchester United hypothetically winning the UCL and the critics getting on Pep's back. In the same way in 2005 Chelsea were far superior to Liverpool, even though the Reds lifted the ultimate Cup in Europe.
The critics need to realise that winning the Champions League doesn't determine who the real best team in Europe is. If you want that then start a league or have a round robin with the last eight. That's another story. It's a Cup now. So, I wouldn't criticize Pep if he fails to win it. Two years ago, that Barcelona team with MSN was one of the best I'd ever seen, but they didn't win the UCL. Atletico knocked them out, but Barcelona were obviously the better team and had nothing to show for it in Europe. What a tragic system!
YV: When weighing up potential winners, it is almost impossible to forget Barcelona, what do you think are their chances, and do you think Neymar's departure has affected them negatively?
IM: I think Neymar's departure could strengthen Barcelona as a unit. Believe me. PSG won't want to face Barcelona in the latter stages. You know, a big factor in tournaments is the draw. PSG can win it but they wouldn't want to face Barcelona in what should be a revenge game. There's also certain opposition whose strengths expose your weaknesses. That's how Atletico's got the better of Barca. How relieved Barcelona would be that Atleti's already out thanks to Roma! For me I'd say that there's two other teams whose styles can upset the brilliance of Barcelona. That's Liverpool and Manchester United in two different approaches.
Mourinho knows how to beat the best teams... or should I say, 'How not to lose'? In a two-legged structure this works better for him. As for Liverpool, their main danger is that I think they can beat anyone even away. I wouldn't be surprised to see Liverpool shock a top team 4-1 away from home and then draw 3-3 at home. For Liverpool, the key in the biggest games is to play at home first. You normally hear that you want to play at home last and have the fans inspire you forward. Now, it's the other way around. Everyone knows Liverpool's weakness is their defending, while in attack they can dish out three quick goals anywhere. If you run at Liverpool, pressurize them, they can't handle it. So, ideally, if they play the first leg at Anfield, historically European opposition's afraid of the ground and they want to minimize the damage by playing negatively for a 0-0 or a 1-0 loss. That would be a big mistake.
I can see it happening because even in the Premier League where clubs know Liverpool, they are sitting back at Anfield. Yes, they're afraid of the Reds pace but you can also score on the other end. A high percentage of opportunities against Liverpool end up in the back of the net. You have to go for it and take advantage of that... because if you're counting on attacking at home, that is when Liverpool's pace is going to hurt you badly. So, I can see Liverpool beating the likes of good attacking teams like Barcelona and Real Madrid, but the way to beat them is to go all out for your away goals at Anfield. You got to trade blows with Jurgen Klopp's style in two high scoring matches. If Liverpool stop making mistakes at the back, they'd be my favourites but I think Manchester United and Chelsea will make life easier for themselves to lift the Cup.
I wouldn't like to pick one winner, as I believe there's a combination of qualities in the five Premier League teams for one of them to go all the way. So, the best teams like Barcelona or Bayern can play out of their skin, and on their day can beat any one of those five sides, but I can't see them doing it again and again. So, I'm looking forward to the draw on Monday, which will reveal which club will have to test their weaknesses earlier than expected.