East Bengal
Subhash Bhowmick wins the power struggle at East Bengal as 'miserable' Khalid Jamil gets the boot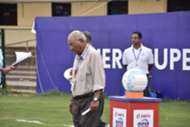 Club Secretary Kalyan Majumdar, sitting alongside Subhash Bhowmick, whose tenure as Technical Director of East Bengal was extended into 2018-19, minced no words while discussing Khalid Jamil's poor performances this season.

"We got one of the most educated and a premier coach of India. That, however, did not bear us any fruits. We finished in a poor position in the I-League. In the end, we needed to win two games, of which one was at home. We ended up drawing both. We didn't need any miracle, just needed motivation and that is natural human nature. Even that, Jamil could not deliver," he said.

"We had a two-year contract with him because we wanted success with him. We gave him a lot of support all throughout the season. It becomes difficult when you cannot take the help of the senior resources we gave in Monoranjan Bhattacharya, Bhaskar Ganguly and the Technical Director. We have told him that we like you but currently can't work with you. We have immense respect for Jamil as a footballer and a coach but the situation now is difficult," Majumdar confirmed that the axe has indeed fallen on the 41-year-old.

Majumdar continued in the same vein and confirmed that Bhowmick will be the man leading the football team forward. "I have a lot of faith and trust in Subhash. When we told him about our wishes, he replied by saying for East Bengal he is ready to do any duty. So, he has agreed to continue as Technical Director.

"We have given him the authority to choose the foreigners. Last season, on paper, we were the best team, but couldn't perform as the best team. Things have to change."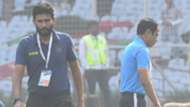 The club officials have to bring in an AIFF A-License holder coach as soon as possible. That appointment too is to be hand-picked by Bhowmick. He claims to have a list of 23 such coaches based out of Kolkata at his disposal and a name would be finalised in the upcoming days.
It will be paramount that Jamil's successor at the club and Bhowmick be on the same wavelength.
Bhowmick, who last week
opened up on the ill-treatment
dished out to him by the former Aizawl coach in Bhubaneshwar, wished that Jamil could only 'learn from his mistakes'.
"I never believed that there is a person in
India
that can restrict me from talking to players! Jamil stopped talking to me after reaching the final suddenly. I was shattered. I had never seen such behaviour in my football career. He is a young man, in fact, very young. When I was young, I also committed a lot of mistakes. Maybe he will learn from this."
Ranjan Chaudhuri, who recently guided Bengal to the Santosh Trophy final will continue in his role as assistant coach. Jamil's close aide Abdul Aziz Siddique will also be asked to leave the club.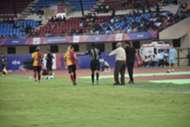 As of now, a list of 28 players has been handed out to Bhowmick and he has been given a free hand to select the team.
While Mahmoud Al-Amna has been handed a year's extension and will play the Calcutta Football League (CFL), Katsumi Yusa will only return to the club in September, at the start of the I-League.
Bhowmick asserts that he will be completing 50 years of association with East Bengal in 2019 and has no better opportunity to return the lost pride to the club.
Khalid Jamil, an I-League winning coach did not have the best of experiences in his first tryst with a Kolkata club. But he lost out to a man that delivered East Bengal's last league title in 2003-04 and the biggest honour for the club, the 2003 ASEAN Club Championship.
Now, with the 'hindrances' out of the way, it remains to be seen how Bhowmick fares in the revamped East Bengal and who does he choose to be his commander-in-chief.