Transfers
Dybala keen on Pogba reunion: Maybe we can play together again in the future...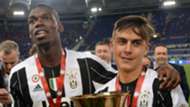 Paulo Dybala has admitted that he would like to be reunited with good friend Paul Pogba but insisted that he has no intention of leaving Juventus because of his burgeoning partnership with Cristiano Ronaldo.
Dybala and Pogba spent a season playing alongside one another in Turin before the Frenchman's then world-record transfer to Manchester United in the summer of 2016.
The Argentine has been repeatedly linked with the Premier League outfit in the interim, while speculation surrounding Pogba's future at Old Trafford has also intensified in recent months on account of the midfielder's allegedly strained relationship with manager Jose Mourinho.
However, for now, Dybala and Pogba remain adversaries, with the pair having faced off twice in the Champions League over the past three weeks. 
Dybala scored the only goal of the game as Juve triumphed in Manchester last month but Pogba helped United claim a dramatic 2-1 win in Turin on Wednesday to keep his side on course to qualify for the last 16.
"It was great to see to see Paul again because we're good friends," the 24-year-old told reporters on Thursday.
"The first game [at Old Trafford] was amazing for me, and the second for him.
"But it was just nice to play against him. We have remained in touch since he left [Juventus].
"We're still very close and who knows, maybe in the future we can play together again on the same team..."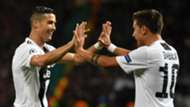 However, Dybala is loving life at Juve right now, especially as the arrival of five-time Champions League winner Ronaldo has significantly boosted the Bianconeri's hopes of finally ending their 22-year European Cup drought.
"We have a good chance this year because Cristiano is a great player and now we have more options," the Argentina international enthused.
"But we have been playing well for years. We have lost two finals in the past four years and last year we played a great game against Real and were unlucky to lose. 
"So yes, I think that we can do it this year. But the goal every year is to win every title. 
"Obviously this year it may look like the Champions League is an obsession but we're also focused on domestic trophies. 
"We want to win another Scudetto."
Juve are certainly entitled to aim high this season with Ronaldo and Dybala forming an excellent understanding in attack, with their duo having already racked up 14 goals between them in all competitions.
Dybala acknowledges that there is still room for improvement but he is enjoying playing alongside the five-time Ballon d'Or winner.
"We're happy working together and have scored a lot of goals," he said. "We already knew how he plays and we have to adapt a little bit and work to improve our partnership.
"But we're doing well. I think we're going to score a lot more goals together!"
Of course, Ronaldo's arrival at Juve resulted in the departure of Dybala's compatriot, Gonzalo Higuain, who joined AC Milan on loan during the summer.
Having already been reunited with Pogba this week, Dybala is now hoping that he will also get to face his former striker partner, with the Rossoneri striker set to make his return from a back problem when Juve visit San Siro on Sunday night.
"I'm hoping that Higuain will play because we're good friends," he added. 
"He's had a little injury but I know he's recovering well, so I hope to see him out on the pitch."
Goal were on the scene at the unveiling of @adidasfootball's new Copa 19 boot with Paulo Dybala in Milan – and they are a beaut! 🤩#Copa19 pic.twitter.com/hZbD5laYxO

— Goal (@goal) November 8, 2018
However, Dybala is delighted that another familiar face won't be lining up against him this weekend.
Milan boss Gennaro Gattuso had a short spell at Dybala's former club Palermo but he made a big impact on 'La Joya', regularly roughing the youngster up in training in order to toughen him up.
"I'm looking forward to seeing Rino again too, although I'm happy that he won't be on the pitch to kick me!" he joked.
Sunday's showdown at San Siro will also see Dybala don his brand new adidas Copa 19+ boots, which he debuted in the Champions League in midweek.
The game against United may not have gone in Juve's favour but Dybala, who hit the bar with a stunning curling effort from outside the area, was thrilled with his new footwear.
"Wednesday was my first game with the Copa 19+ boots and it was an amazing sensation," he stated at the official launch in Milan.
"I was very comfortable with the ball and I thought I played well. The touch and feel of the boot was incredible, so it was a great experience. 
"I'm really happy with the boots and I can't wait to wear them again on Sunday."
The adidas Copa 19+ boots go on general sale on November 13. For further information, visit adidas.com