Selangor
Forkey Doe's future depends on police investigation - FAS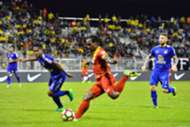 ---
BY        ZULHILMI ZAINAL       Follow on Twitter
---
Selangor have issued a statement confirming that their striker Forkey Doe has been detained by the Malaysian police, allegedly for driving an unregistered car.
But in the statement, they clarified that the vehicle has not been one provided by the club, and that it is his own.
"The Selangor FA is surprised with the news of Forkey Doe's arrest, but is unaware of any problems with the car in question, as it has been bought by the player himself and not the one provided by us," wrote secretary-general Rosman Ibrahim.
He also voiced the association's stand on the matter, that all of their players should follow the law.
He added that the future of the Liberian at the side is now dependent on the police's investigation into the case.
"The status of Forkey Doe as a player at the club now depends on the police's investigation." 
Reports emerged earlier on Friday that Doe has been detained on Thursday evening, for allegedly driving a cloned (unregistered) car.