Young Africans
Djumaa: How did Yanga fail to win such a simple game!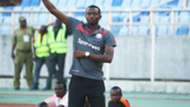 Simba Assistant Coach, Masoud Djuma has claimed that he feels sorry for Yanga who failed to win in a "a simple match" against Rayon Sports on Wednesday.
Yanga were held to a goalless draw with the Rwandese outfit a result that leaves them rooted at the bottom of the table with their one point.
Speaking to Goal, Djumaa said that, Yanga needed to win the game by a big margin because they created a lot of chances compared to their opponents.
"I think Yanga they have to blame themselves because they played well and created many chances but they failed to put ball in the net, in my opinion I think the lack of experience from their attacking players let them down," said Djumaa.
However the Burundian coach advised Yanga to keep fighting and never give up.