Transfers
Diego Costa seeks legal escape route from Chelsea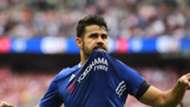 Chelsea have confirmed that they are unable to speak about Diego Costa as legal proceedings are ongoing to secure the striker's move away from the club.
The Spain international is currently training alone in Brazil, the country of his birth, after Antonio Conte informed him by text message that he was no longer needed at the club.
Costa's lawyer, Ricardo Cardoso, confirmed to the news agency EFE last week that the striker would explore all legal means to depart the Blues for Atletico Madrid.
With the situation uncertain, Conte was forced to repeatedly bat away questions about Costa during his most recent press conference ahead of his side's clash with Burnley.
Chelsea agreed to release Costa in a £76 million deal to the Chinese Super League club Tianjin Quanjian in January, but the move fell through due to a rule change by the authorities in China, who instituted a 100 per cent tax on all foreign transfers over $6.63 million to curb excessive spending by clubs.
Costa then looked to make a move to his former club Atletico Madrid, who are keen to sign him. They were confident that their transfer ban was going to be overturned. Instead, it was upheld.
Pedro out of opening match vs Burnley
AC Milan have also expressed an interest but Atletico remain the most viable option. Costa has even been pictured in an Atletico Madrid shirt on his Instagram page.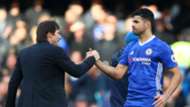 Conte was asked by a reporter at his press conference for an update on Costa and he responded: "I don't know."
Chelsea then said that there's "nothing to report [on Diego Costa]" before explaining the situation when the cameras were switched off. Costa's situation is not thought to be a distraction with the Blues insisting that they have moved on, at least from a footballing perspective.
The legal case is thought to have been brought around the time that Cardoso made his comments to EFE last week. He believes that his client has been discriminated against.
Conte hits back over Wenger jibe
"We are going to activate all the legal mechanisms [to secure Costa's exit] and formally present a transfer request," the lawyer said. "In three seasons at Chelsea he won two championships, and was the decisive player in those victories.
"When he was already with the Spain national team [for a friendly against Colombia last June] and before travelling to Brazil to enjoy his holidays, he was released from Chelsea by SMS by the coach Antonio Conte.
"Obviously, this release, in the way it was done, and how it became known by everyone, was unfair treatment and a lack of respect to the player on the part of Conte which is unacceptable and inexcusable.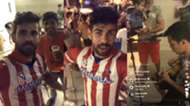 "Such discriminatory behaviour makes it impossible for Costa to return to Chelsea while Antonio Conte is coach. There is no way that he can continue to play for Chelsea, a message which has been communicated various times to those in charge there.
"And he will not play for any other club which is not Atletico Madrid, a club where he had sporting success, but above all where he was always respected, even after he had joined Chelsea."
Costa's representatives were contacted by Goal to request a statement after the press conference but they have yet to issue a response.