Manchester United v Manchester City
Derby Day in Manchester: Guardiola & Mourinho united by a city but divided by style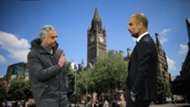 Jose Mourinho and Pep Guardiola are two managers in remarkably similar positions at their respective Manchester clubs, yet it is their one big difference which will divide and define them at Old Trafford on Sunday.
Strip away the propaganda from both sides and you will see two men who arrived at rival clubs at similar moments in their respective histories, and two men who have had similar ups and downs in their attempts to establish their employers as the top dog.
United had barely cracked open the Wembley champagne when news broke that Mourinho would take over from Louis van Gaal, who may have delivered the FA Cup but had also put together a team that was well short of expectations.
Manuel Pellegrini, like Van Gaal, also delivered a trophy in his final season but by then it had been widely accepted that he had let the rot set in at City.
Whatever way it may be painted now, Mourinho and Guardiola were, and still are, competing on a level playing field. 
Mourinho, in fact, would have been the happier of the two managers after their first transfer windows; he got the four signings he wanted while Guardiola asked for at least five new defenders and got one.
How last season panned out was probably a reflection of that first summer: Mourinho could not have done enough to make United title contenders again, but he did strengthen sufficiently to win two trophies. 
Across town, the Guardiola revolution showed signs of progress but was always hamstrung by the lack of an overhaul and the unexpectedly poor form of Claudio Bravo, a cornerstone of the new system.
Even now, though, the two managers are in similar positions. Mourinho has certainly cut a miserable figure this season and certain well-placed media leaks have highlighted his displeasure with Ed Woodward, the man who did not stump up the cash to sign Ivan Perisic from Inter, but it is not as if life is a bed of roses for Guardiola. 
The Catalan may have signed five very useful players this summer but he wanted nine, and he too has been unhappy with his superiors. In recent weeks, he has been putting pressure on City's sporting director and CEO to release funds for January purchases. Both men want much more than they currently have.
But what they do have right now, and how those positions are regarded, is a reflection of their very different footballing outlooks. 
For United to be in with any kind of shout of winning the title at this stage of the season is a first since Sir Alex Ferguson retired, and it is to Mourinho's credit that he has used the funds afforded to him to rebuild a hotch-potch team and get them in some kind of position to challenge. 
Much has been made of United's results, too, but their fans will remember that victories at Anfield and Chelsea were hard to come by even during Ferguson's tenure.
Losing at a team like Huddersfield was not out of the ordinary for any Ferguson team either, or for any other league champion for that matter, and Mourinho's enduring quality is that his sides do tend to win the majority of their games. Given United would regularly fail to win even the most straightforward games under Moyes and Van Gaal, that is not something that should not be overlooked.
Yet while Mourinho has let the world know about his problems in the transfer market and with injuries, he would never admit that what Guardiola is doing over at the Etihad Stadium is just as big an issue.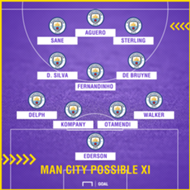 City's performances this season have often been exceptional, and even when they have dipped below that level, they have still found a way to win. If they are to win the league in this manner they would be regarded as one of the most impressive champions in English football history.
Put simply, United are good, but City are better. 
It is a matter of perspective but there is an argument that United are actually doing well to be within eight points of City, given the Blues are enjoying the joint best ever start to a top-flight season.
Given Leicester City and Chelsea were barely challenged in their title-winning seasons, United could feel aggrieved that they have only started to get their act together now there is a genuinely great league leader to chase.
Not that there is too much sympathy for either Mourinho or United among the British football public, and that is another problem for the Portuguese.
For every defeat, every dropped point, or even every defensive performance, he will be compared to his old rival, who is not only winning more matches but doing so with the kind of attacking philosophy which revolutionised football in Spain and Germany.
The old arguments regarding substance versus style are surely now irrelevant; City are suggesting you can have both.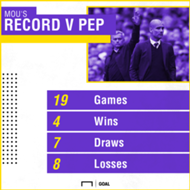 It is a scenario which will be played out on Sunday. Few expect United to outplay City - another consequence of who the respective managers are - so even if the Portuguese wins he would likely get a measure of criticism from some quarters for "winning ugly". Just look at the expected-goals-based reaction to the 3-1 win at Arsenal last weekend.
A United victory would, of course, spark a title race and they would be afforded the opportunity to chase down their rivals, who for all their supreme performances and various broken records would be just five points clear. That would really be something, and the spotlight would then turn to Guardiola and whether his style really can work when the games pile up in December.
Should United lose, however, they would be 11 points adrift. If that happens, Mourinho would not only face criticism that his approach is not just less attractive than Guardiola's, but ultimately less effective. 
Perhaps even the United fans who have spent the last few months claiming Guardiola's success is down to luck or money may finally re-evaluate the situation and wonder whether they are backing the wrong horse and if they would, in all honesty, love to have the Catalan in charge at Old Trafford. 
We will have to wait until May to see who is on the right side of history, but at least on Sunday both managers will have the opportunity to make their case. Mourinho has made his name by winning, Guardiola by winning with style. 
If City prove that you can indeed have both in the Premier League, that would really give United something to think about.