Nigeria U20
Danjuma denies reports of Nigeria U20 women's unpaid entitlements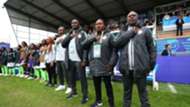 Nigeria U20 women coach Christopher Danjuma has denied reports that his ladies are yet to be paid their entitlements before and during the U20 Women's World Cup in France.
This comes in the wake of speculations that the players and officials were shortchanged since exiting the women's youth competition in the quarterfinal after a 2-1 loss to Spain.
And the Nasarawa Amazons gaffer described the media claims as 'silly and mischievous story', stressing their allowances and bonuses were all sorted following their return home from France.
"I see this as a silly, mischievous story. I have spoken to my assistants and backroom staff and they all denied talking to the reporter," Danjuma told media.
"We were paid our entitlements for the camping in Austria and at the Fifa World Cup, and no money was lost as claimed in the story. It is unfortunate that some persons commit their lives in trying to cause mischief and trouble wherever they see there is peace.
"We had been paid our entitlements before the Sports Minister came. I am aghast at what the reporter was out to achieve. Was the reporter in Austria with the team to ascertain we were 'suffering?
"No member of the Falconets' technical crew or the playing body has any negative thing to say about the NFF. They did their very best for us and supported the team at each point during the qualifying series, the training camp and the Fifa World Cup."