Chelsea
Conte: Ake is ready to step into Cahill's shoes
Nathan Ake is set to replace the sick Gary Cahill for Chelsea when they take on Tottenham in the FA Cup semi-final at Wembley on Saturday evening.
Cahill has been ruled out with a severe virus after he was rushed to hospital after falling ill at Cobham Training Centre during the week. He is thought to be on the road to recovery but will miss Saturday's match and remains doubtful for the Blues's return to Premier League action against Southampton on Tuesday.
Ake has not played since 18 February against Wolves, but he has been deputising for Cahill in training and he will step up against Mauricio Pochettino's side, with Conte confirming the news to a group of journalists at Stamford Bridge ahead of the match. 
"Ake thinks he deserves to have this chance to play," Conte said. "He is showing me his all in this period, always great commitment. He worked very hard. His behaviour was great, was fantastic, and he never told anything.
"Don't forget that Ake was playing every game with Bournemouth, and he wanted to come and to stay with us to try to work together and to help us to fight for the title.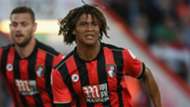 "I think he's a good player, I think he's ready to have this opportunity, to have this chance, he deserves this opportunity and I trust him. I have no problem to take this decision.
"I think for this position Ake has the right characteristic to be the substitute for Gary."
Conte added that he sees John Terry as the back up option for David Luiz, while Kurt Zouma deputises for Cesar Azpilicueta as he implements a three man defence this season. 
Terry announced that he will depart Chelsea at the end of the season on Monday and with Cahill out, and Terry not likely to start, Conte has to decide on another captain for the game against Spurs.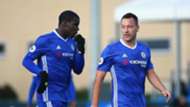 Conte went onto add that the captain's armband isn't important and Chelsea's only captain is Terry, until he ultimately leaves the club in June.
Conte: Spurs are not underdogs anymore
"We have this problem," he added. "There is only one captain in Chelsea now and it is JT, if he plays or doesn't play. And another person puts on the armband, but the captain I repeat is John.
"For sure tomorrow we have to find a new captain, and this is another problem that I have to solve."