CONMEBOL Libertadores
'CONMEBOL is the scourge of football' - Maradona slams decision to play Libertadores final in Madrid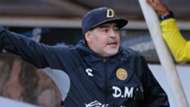 Boca Juniors legend Diego Maradona has slammed CONMEBOL for the decision to move his former club's Copa Libertadores final against River Plate to Madrid. 
Having drawn 2-2 in the first leg of one of the most hotly anticipated deciders in Libertadores history, the two Buenos Aires giants were unable to play the second leg in River's Monumental stadium. 
An attack on Boca's bus with stones and bottles left two players needing treatment for eye injuries on November 24, a situation that led the game to be abandoned after hours of uncertainty. 
A second attempt to play the following day also failed, with Boca subsequently launching a formal request to be awarded the Copa due to the violence suffered by their squad. 
CONMEBOL, however, moved to take the Libertadores out of South America for the first time in its history and stage the final in Real Madrid's Santiago Bernabeu on December 9 - a decision that has not been received positively by Maradona. 
"I want to tell [CONMEBOL president Alejandro] Dominguez, what the hell do me and my family have to do to see this final in Madrid?" the current Dorados coach fired to Radio La Red. 
"What does he think, that we are all [President of Argentina and miilionaire businessman Mauricio] Macri? 
"I wonder why they can't play it in Velez Sarsfield's stadium. They are the scourge of football."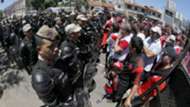 Diego also had some choice words for River, who in 2015 were awarded victory in a Libertadores last-16 encounter against their rivals when several players were injured by pepper spray fired by fans from inside Boca's Bombonera after half time. 
"I am fuming! I say to the River lads and [Marcelo] Gallardo that this is not a situation you want to go through. When they next go to Boca, how are they going to enter the stadium?" he pondered. 
"River cannot talk anymore about the pepper spray in 2015. Boca shut their mouths at that time, so they shouldn't go on about it.
"Don't tell me now that Dominguez is going to preach to us and that [AFA president Claudio] Tapia, who has got more chin rolls than [famous late actor] Faty Porcel, is going to start talking about football."