NPFL
COD United Ladies, Capital City Doves out of Nigeria Women Premier League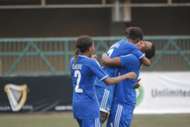 City of David United Ladies and Capital City Doves have pulled out of the 2016/17 Nigeria Women Premier League season.
The two teams were dropped from the division after COD United Ladies were disbanded, while Capital City Doves failed to complete its registrations before the March 21 deadline.
In a statement on Thursday, chairperson of the Nigeria Women Football League, Aisha Falode announced that 15 registered teams will compete in the upcoming topflight division.
The ace broadcaster however freed players of the disbanded Lagos women outfit to join other teams in spite the closure of its players' registration deadline.
"We are aware of the unfortunate incident at COD United Ladies that saw the owners disband the team on the eve of the deadline for registration," said Falode.
"In the spirit of fair play and compassion, the board has freed the players of COD Ladies to lace their boots at any club side that need their service.
"Clubs are free right now to take any players of COD United Ladies for the upcoming 2016/17 NWFL season. We took this decision strictly in the interest of the players who are unfortunate victims of the disbandment.
"Players' interest and welfare are uppermost on our minds and should be protected at all times with them being the main actors of the league.
"We will not be happy to see the players idle for a whole season due to no fault of their own.
"Clubs have the concession even with the closure of registration to freely acquire any of the players that fancy their interest and value for the upcoming season. We want to wish COD United Ladies well in other football endeavours they may venture into in future.
"We equally thank the owners for the unquantifiable contributions in the past towards the development of the women football league."
The registered 15 teams are Rivers Angels, Bayelsa Queens, Heartland Queens, Sunshine Queens, Ibom Angels, Abia Angels, FC Robo, Osun Babes, Nasarawa Amazons, Delta Queens, Confluence Queens, Adamawa Queens, Edo Queens, Pelican Stars and FC Saadatu Kolo Amazons.
Sunshine Queens will host Ibom Angels in the league opener scheduled to hold at the Akure Township Stadium on Saturday, March 25.