Christian Pulisic
Can 'Messi-type' Pulisic become America's first soccer superstar?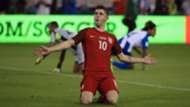 SAN JOSE, Calif. — For many of the American fans at Avaya Stadium on Friday, the U.S. national team's 6-0 dismantling of Honduras was their first chance to see Christian Pulisic play in person. After the 18-year-old scored a goal and helped set up three others, Pulisic had left many in the stands in sheer awe at what they just witnessed.
Tab Ramos knows the feeling. The former U.S. national team star and current U.S. Under-20 coach first saw Pulisic play live six years ago in the kind of moment of serendipity befitting the fairy-tale nature of Pulisic's career.
Donnarumma crowned NxGn winner
Ramos was working as a youth club coach at the time and walking to the field where his team was ready to play when he noticed a tiny kid in a game against older boys from the D.C. United academy. What caught Ramos' eye wasn't just that the player was so small, but rather that he was dominating his bigger opponents.
That player was Pulisic.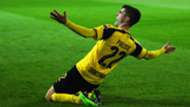 "He was the littlest guy on the field, by far, but he was just thinking at a different pace than everybody else," Ramos said. "His touch was so easy. He ran the show.
"He looked really tiny, like fragile, like somebody's going to hurt him. Then, you notice no one's going to hurt him because nobody can even get close to him. And it wasn't because he had lightning speed. It was because he read the game so well. Nobody could kick him because nobody could think that fast."
Donnarumma can be better than Buffon
Ramos was so taken by what he was witnessing that instead of continuing his walk toward his own team, he went in the opposite direction to Pulisic's team bench. There, he met Christian's father, Mark, and soon after he put a call into U.S. Soccer to let the youth national team setup know what he had seen.
"I just saw something in him that was completely different," he recalled.
Six years later, that undersized prodigy has blossomed into one of the best teenagers in the world; a player who just helped the United States secure four precious points in World Cup qualifying with a pair of man-of-the-match caliber performances.
"Christian is just a natural," U.S. coach Bruce Arena said of Pulisic after the win over Honduras. "The game's easy for him. He's got exceptional skill, vision. He's pretty smooth."
Clint Dempsey earned man-of-the-match honors against Honduras, but his hat-trick effort was set up in large part by Pulisic, who assisted in Dempsey's first two goals before drawing the foul that set up the veteran for a stunning free-kick finish. On Tuesday night against Panama, Pulisic outstripped a defender twice his age in Felipe Baloy and calmly set up Dempsey at the doorstep for the lone U.S. goal in a 1-1 draw.
"Man, he's a great player," Dempsey enthused. "He can beat people one-on-one on the dribble. He creates mismatches because of that. Someone else has to kind of push to him, and if you're able to make good runs, he'll find you. It's great to have players like that, that can win that 1-v-1 battle and break teams open."
Pulisic has been taking on, and beating, defenders since his earliest days as a soccer player. Dig long enough on YouTube and you can find videos of a 9-year-old Pulisic pulling off spin dribbles and Cruyff turns against defenders only used to seeing such moves on television, not in their Pennsylvania youth league. 
Not long after Ramos first stumbled on Pulisic, the Hershey, Pennsylvania, native was making his way up the U.S. youth national team ranks, first on the Under-14 team. He didn't dominate in those early years in the system, but he showed unique qualities that made it clear he could be a very different, very special player.
"We knew he was good. We saw the talent, but it was not like he was the biggest eye-catcher on that team at that point in time," U.S. U-15 coach Dave van Den Bergh told Goal. "But we did think the potential was there.
"He was never afraid to try anything on the field. He was always very willing to take people on, and try the difficult pass."
A product of the famed Ajax youth academy, Van Den Bergh knows youth talent when he sees it, and the former MLS winger and Utrecht star had no doubt Pulisic had all the qualities to develop into a special player.
"Sure, it's easy for us to say it now that he's doing so well, but you could tell early on that he had special qualities," Van Den Bergh said. "I was never worried he wouldn't make it because of outside factors. Talent paired with a strong mentality is a formula for a successful player and he was always focused on getting better."
Pique is right: Messi's ban is a farce
Richie Williams saw the same qualities as Pulisic's head coach with the U.S. U-17 national team.
"You could tell he enjoyed the game. He enjoyed being at training," Williams told Goal. "For me, he's always been a competitive guy. You can tell he has a passion for the game. He shows up, he's consistent, shows up every day in training, trains well."
Pulisic left home to travel to Bradenton, Florida, to join the U.S. Under-17 residency program, which could count Landon Donovan, DaMarcus Beasley and Omar Gonzalez among its graduates. He spent 18 months in the program, representing the U.S. U-17 team against top talent from around the world — talent he regularly outplayed.
"Scouts from Europe were saying he was one of the highest-rated around the world at his age group," Williams said. "You could see it in the games we played, against better competition, that he was one of the better players."
Pulisic's improvement as a player has actually speeded up in the last year and a half, since breaking in with the Borussia Dortmund first team during the winter break heading into 2016.
Along with earning minutes at the age of 17, and becoming the fourth-youngest player to ever score a German Bundesliga goal, Pulisic also made his senior national team debut. It wasn't long after that debut that Pulisic was working his way into the starting lineup.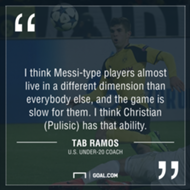 Then Europe's most high-profile teams starting expressing interest in Pulisic, as rumors swirled about eight-figure offers and attempts to pry him away from Dortmund. Some teams even reached out to Ramos to get their take on Pulisic.
"There were a couple of clubs that called me personally and asked me, 'How is he different?'" Ramos said, referring to other Americans who had been hyped up at a young age. "I told them, 'He is different because he is the real thing.'"
Adu & the teen stars who failed to fulfil potential
The past seven months have seen Pulisic's career go to the next level. Pulisic has started in five straight World Cup qualifiers for the U.S. He has become a key figure for Borussia Dortmund, meanwhile, playing well against some top competition, and most recently shining in Dortmund's Champions League round-of-16 decider against Benfica.
Pulisic has thrived at Dortmund despite there being a very stacked competition for minutes on a deep squad filled with attacking options and big names. Through it all, Pulisic has continued to get the call from Thomas Tuchel, and on several occasions he has rewarded Tuchel's faith in him.
"Up until about a year ago, we kind of took for granted he was jumping into games with the (Dortmund) first team, doing stuff that none of our greatest players have ever done," Ramos said.
"When you think about it, you think the Dortmund coach, in the Champions League game, looks at the bench and picks Christian. When you think about the kind of players he could pick and he picks Christian, that makes you go 'whoa!' It shows you how well he is doing."
We could get used to this @cpulisic_10 and @clint_dempsey combination!

That's goal No. 56 for Deuce https://t.co/YAet8poim7

— U.S. Soccer (@ussoccer) March 29, 2017
Pulisic's continued displays of brilliance have made it tougher and tougher to temper expectations and slow down the building hype over a player who isn't just an exciting young American, but one of the most promising young players in the world, as underlined by his third-place finish in Goal's NxGn series, which ranks the top 50 teenage talents in the game today.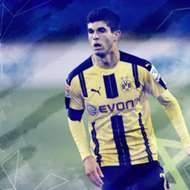 "I always try to hold back as much as I can from complimenting our younger players, because you know how we do," Ramos said. "We automatically build the guy up, and then we kill him really because we don't allow him to grow.
"With Christian, it's clear by now that he's a special player and it's tough to ignore what he has done over the past year."
Mbappe can emulate CR7 & Ronaldo
For Ramos, Pulisic isn't just a good American player. He is a player with the talent to be one of the best in the world.
"I think Messi-type players almost live in a different dimension than everybody else, and the game is slow for them. I think Christian has that ability," Ramos said. "Obviously Christian's not Messi, but I do know that he's in a different dimension. The game moves at a different speed for him than for everyone else."