KPL
Chemelil Sugar quartet goes AWOL after 11 months of delayed pay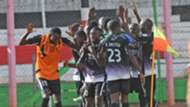 ​Chemelil Sugar quartet have left the club as tension continues to grow with reports that players have not been paid for the last eleven months.
Chemelil Sugar players were reportedly paid Sh10, 000 each early this week after almost a year of delayed salary.
"A few players were given Sh15, 000 but a majority were paid only Sh10, 000.
"The money is too small. You are left wondering whether to pay rent or buy food. Players are irked," said a source, who talked to Goal on condition of anonymity.
The source further told Goal that the management had defended the decision, saying that the balance was used to settle bank loans.
Collins Neto, Ken Owino, Yusuf Juma and Nigerian Mustafa Adibayo have since left the club in a huff.