Nemanja Matić
Chelsea's Matic one of the best, but Liverpool's Grujic needs time - Tadic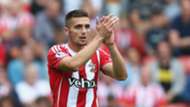 ---
EXCLUSIVE
---
Dusan Tadic regards Chelsea's Nemanja Matic as a key player in Serbia's World Cup qualification campaign, but thinks Liverpool's Marko Grujic needs time to adapt to Premier League and international life.
The Southampton man has been involved in his country's last 10 goals - with the nation well placed to compete for a spot in the 2018 World Cup in Russia, up against the likes of the Republic of Ireland and Wales. 
Serbia's national team has a host of players from the Premier League and Tadic has given his thoughts on Chelsea midfielder Matic, Manchester City defender Aleksandar Kolarov and Liverpool starlet Grujic. 
---
NEMANJA MATIC
---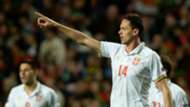 "Nemanja has been at the top of the game for a long time," Tadic told Goal. "He is important for them [Chelsea], also they have a great coach and you can see that they have a great mentality and good qualities. 
'Title under Mou helping Chelsea now'
"I am very happy for him because he is a good guy and player. He is very important [for us] because he is one of the best at his position and we are happy to have him. The title race is still open but I think Chelsea have the will do it.
"I think they have enough experience not to throw away eight points, along with Matic's qualities of course! They have a good coach, Antonio Conte has tried to find the best season for them and after Arsenal they changed to 3-4-3 and that's the biggest difference and with the players they have… they are one of the best in the league."
---
ALEKSANDAR KOLOROV
---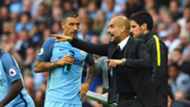 "I am not surprised [he has moved to centre back] because he has the qualities to play there," Tadic added. "He is a smart player and he is quality. Guardiola likes a left footed player to play there and he likes to play from the back and Alexander Kolorov is very good at that.
Why Man City mustn't panic buy
"He has a beautiful left foot and he can give good passes between the lines but still defends well, so I am not surprised about that. He can play everything but for us he plays a very important role in the 3-4-3.
"He plays on the left-hand side and it is a good position for him, too. He has played well there in the past and all good players can play in many positions."
---
MARKO GRUJIC
---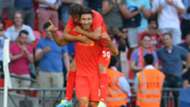 "I know him very well, he is a good boy with a good mentality," Tadic continued. "I think he needs time because everything has happened to him [in the past year]. He played just one season with Red Star and then he went to Liverpool and he needs the time to adapt.
"For sure, Liverpool will bring good qualities into him. We will see what happens in the future but I believe in him. He just needs to work hard every day and his qualities will come out on the pitch. 
Agent rules out Grujic loan switch
"You can see other players with more experience than him that have struggled in the Premier League. He is still a young player and, for him, this situation is normal. The Premier League is the hardest league in the world.
"If you go to another league it is easier but this league is hard to adapt to. There's a lot of contact so I think that it is different from everything else."