Chelsea
Chelsea risk losing Hazard unless they can match Man City's ambition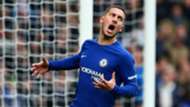 It has taken a while, but Pep Guardiola has turned a financial giant into a winning machine - and it has huge implications for Chelsea and the rest of English football. 
Chelsea are trying to renew the contract of Eden Hazard as Antonio Conte publicly admits it is "impossible" that his side can retain their Premier League title.
Real Madrid are watching and waiting to see how the talks go as Hazard is set for continued speculation around his future. The Belgian has repeatedly said he enjoys life in London, though, having become a symbolic player for the Stamford Bridge club. 
The Premier League champions have shown they will go the extra yard to keep Hazard happy and even signed his younger brother, Kylian Hazard, from Ujpest over the summer. Eden then jokingly branded Chelsea as "Hazard FC" on social media.  
However, Man City not only look like they are capable of winning the title this season, but they look ready to assert their dominance over the top six clubs in England for many years to come. City have consistently outspent their rivals (in terms of net spending) since Sheikh Mansour's takeover in 2008, but it is only now really beginning to pay off.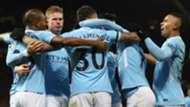 Meanwhile, Chelsea have reigned in spending on excessive transfer fees and lost out in a crazy transfer market on a number of their targets. This meant the Blues missed out on Danilo from Real Madrid, now at City, while Manchester United had more might to sign Romelu Lukaku from Everton. 
Forbes currently rank Chelsea as the seventh richest club in the world, but they are no longer spending as much as they used to in the transfer market. A £90 million net spend looks a lot on the surface from the summer transfer window, but Diego Costa was sold for £59m after that and Oscar for £60m in the January before it opened. 
Chelsea have been making profits, but the best players in Europe might instead look to Man City for money and success if things continue down this path. If the world's best players aren't arriving at Stamford Bridge every summer, then keeping Hazard becomes harder and harder. 
Conte's men are only eight points worse off than this point last season, while they are still in three cup competitions rather than just the one. The club haven't gone too far backwards, but Manchester City have hurtled forward and those running the London club will have to think about what their response will be.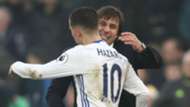 Chelsea and Man City compete at every level. They are the two best academies in England, they have the two best women's teams in England and they're fighting for commercial revenues as the Premier League becomes more and more popular across the world. 
The story of English football has moved into a new era, with Man City copying Chelsea's model that disrupted English football to properly challenge the old elite clubs. City have emulated a number of successful clubs to secure glory, but their new loan system looks almost identical to the one at Chelsea.
Another big financial investment in the first-team squad might be useful to satisfy the ambition of Hazard, as well as the manager and the fans. It may take Roman Abramovich, rather than Conte's tactics, to dig deep to keep Hazard in a blue shirt while keeping Chelsea in contention for major honours. 
-->