PSL
Carelse: Coetzee can help stabilize Kaizer Chiefs defence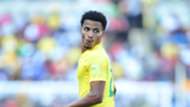 Former Kaizer Chiefs defender Martin Carelse believes that Rivaldo Coetzee can bring stability to the club's defensive compartment that was found wanting of last season.
"Rivaldo can come in and play there, but for me from what I've seen, they need more of a matured player who will stabilize things at the back because if you look at some of the games where they drew and lost, they lacked someone that encouraged them to stand up and keep it tight," Carelse told Goal.
Coetzee has been linked with a move away from Ajax Cape Town in recent weeks, and with Amakhosi looking to strengthen their defence, they might take the opportunity right now to snatch his services.
The gap left by Tefu Mashamaite, who steered them to the title in the 2014/15 season, is yet to be fully replaced and that's something they are missing greatly right now, according to Carelse.
"They need someone with experience that can help them bring results like Mashamaite and (Siyabonga) Snagweni. Someone that will help them score goals, who will tell them, 'ok guys let's stop defending and start attacking so that we don't allow teams to come at us'," Carelse said.