PSL
Cape Town City coach Benni McCarthy wants to revolutionize modern day football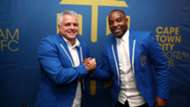 Newly appointed Cape Town City coach Benni McCarthy began his tenure at the Mother City club on Monday.
City experienced an impressive campaign under previous coach Eric Tinkler and the 39-year-old is hoping to reciprocate that success, but admits that he won't make wholesale changes.  
"They have got a winning ship here' so for me it is just about coming in and hitting the ground running'" McCarthy told The Times.
"But everybody knows that' as a coach when you inherit somebody else's team' maybe the players don't perform the same for you," McCarthy added.
The former FC Porto star also stated that despite City's previous success, every player will be judged on a clean slate and will need to perform.
"You have got to know the players' the best and the worst of them' so I am going to have to assess them and see how going forward we can add to the success they had last season. I must just tweak a little bit and make them into a better team. Players have to be fighting for places because that's how you get success," he said. 
"If players get too comfortable' like they were first XI players and then the new season comes' and because they had success [the previous season] they expect [to be in the first team again] … it doesn't work like that. I want hard work from everybody and harmonious competition for places," McCarthy expressed.
Meanwhile, McCarthy hopes that his lack of experience could work to his advantage.
"We are all young guys and we want to revolutionise modern day football. Players will be able to relate to us because we are not old school and are open to change," McCarthy concluded.