Radja Nainggolan
'Bring me the sun and I'll come' - Nainggolan admits he spoke to Chelsea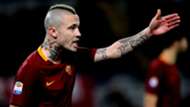 Roma midfielder Radja Nainggolan has admitted to discussing a transfer with Chelsea last summer and says that he could still end up in the Premier League.
The Belgium international has long been linked with a big-money move to Stamford Bridge.
His combative qualities are seen as being ideally suited to life in the English top-flight.
Nainggolan: I'd have to start over in PL
Chelsea already have plenty of midfield enforcers on their books, but the opportunity to bring in another still appeals.
Antonio Conte sounded out the possibility of making Nainggolan one such addition in 2016, but the 28-year-old opted to shun the interest in favour of staying in Italy.
"Yes, I talked to him," Nainggolan said from Belgium's 2018 World Cup qualifying training base.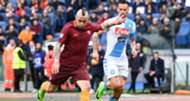 "They were really interested and wanted me. That's all I can say.
"Bring me the sun and I'll come."
Roma icon Totti airs Ronaldo regret
While joking that the climate in the Italian capital appeals to him more than the one on offer in its English equivalent, Nainggolan is a big fan of the Premier League and will not be closing any doors ahead of the next transfer window.
He added: "I watch the Premier League a lot. A lot of my international teammates play there.
"I think it's the best league in the world. When the transfer market opens, we'll talk about it again."