Perak
Beto brush aside AFC U23 disappoint to focus solely on Perak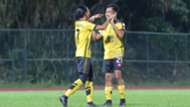 It was a bitter pill for Beto to swallow when it was announced that he will not be part of the Malaysia Under-23 squad that will compete in the 2018 AFC U23 Championship that is scheduled to be held in China later this month.
Having found his way into the starting berth for Perak late in the 2017 season, Beto was striving to put aside the first U23 disappointment in missing out on the 2017 KL SEA Games. 
Turning 23 in two months time, Beto will no longer be eligible for any under-age tournaments and the opportunity lost with the current Ong Kim Swee's squad was an excruciating one for him to accept.
But the left footer doesn't want to dwell on the past and now intends to put his entire focus solely with his club Perak The Bos Gaurus. 
"Maybe it just wasn't my luck with the Under-23s so there's nothing further for me to comment about that. Now it's just about for me to prepare as well as I can for the 2018 Super League. I'm focus 100% and committed on Perak right now," said Beto after the friendly match against Felcra on Saturday.
In that match, Beto started on the right hand side of the midfield and contributed two goals for his team past a hapless Felcra side.
With the competition in central midfield at Perak becoming a tough one what with the return of fitness of Leandro dos Santos as well as the signing of Brendan Gan, Beto knows that he will have to take his chances wherever they come.
"Wherever I'm put, I won't complain. Every game I will give my 100% to fight for a place. I cannot feel complacent even when I'm selected. It's just a friendly match, I still need to continue to work hard," he added.