Australia
'Bad'- Bert van Marwijk's frank Socceroos assessment after Hungary win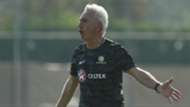 A fortunate 2-1 win over Hungary has done nothing to appease Socceroos coach Bert van Marwijk, who was less than impressed with what he saw from Australia in Budapest.
The Dutchman picked the same starting 11 that beat Czech Republic 4-0 but the green and gold ultimately struggled across the pitch.
Hungary should have broken the deadlock in a particularly poor first half from Australia and the Socceroos only managed to salvage a win with an own goal at the death.
With France looming in less than a week, the performance saw van Marwijk pull no punches in his post-match assessment of the performance.
"Bad. Especially in the first half but you can learn from it but the first half was, in my opinion, a bad performance in a lot of things," van Marwijk said. 
"Starts with..how you pass the ball with the right speed. We do a lot of practice with that and play the ball to the right player.
"So we made a lot of mistakes with that and also we run too much with the ball."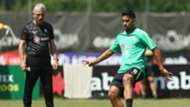 Though critical of the performance, van Marwijk believes his team are primed for the World Cup after an intensive three-week camp spent in Turkey.
The former Saudi Arabia coach even conceded his players were feeling the effect of the training but hopes it will pay off in the long run. 
"We tried to force something sometimes in some situations that's not good, but they were tired and I'm very happy that we were three weeks so hard and we didn't get injuries until now," he said 
"That's very positive I think because they will get stronger and stronger now and get everyday more rest."
Australia open their World Cup campaign against France in Kazan on June 16 with games against Denmark and Peru to follow.