World Cup
Belgium 'deserving' but Brazil are always the World Cup favourites says Thiago Silva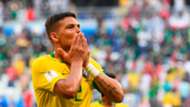 Thiago Silva is not scared of the favourites tag for Brazil after they beat Mexico 2-0 in Samara to set up a match against Belgium in the quarter-finals of the World Cup.
Brazil won at the Cosmos Stadium thanks to strikes from Neymar and Roberto Firmino as the five-time winners showed their might on the biggest stage once again.
Meanwhile, the Red Devils displayed their own level of fortitude, having rallied from a 2-0 second-half deficit to claim a last-minute 3-2 victory over Japan to set up the showdown against the Selecao on Friday.
The 33-year-old centre back ranks as one of his side's most experienced players and despite admitting to having respect for Belgium's quality, he thinks that his side are favourites to build on the successes of Brazil teams in years gone by. 
"Belgium are very strong physically and technically," Thiago Silva said. "Belgium deserve to play in the last 16.
"I think that in all competitions Brazil is the favourite. But we know that's not enough. We have to work hard and give our best every game if we want to win the title. We will continue to work and rest well because Friday's game will be even more difficult."
Meanwhile, Neymar showed that he might be back to his best with a goal and an assist in the first knockout stage match of the competition, but again drew criticism over his behavior on the field.
Silva defended his team-mate after he was accused of going down easily both before and after the match, especially as Miguel Layun avoided a red card after he made contact with the PSG attacker's ankle in an off-the-ball incident.
"This is normal because [Neymar] has many qualities," he added. "The players who defend on him make fouls because it's always hard to defend Neymar and take the ball without making fouls. But it was a tough game."
Silva also lauded Mexico for their efforts, though he was clear Brazil was the more deserving of the two sides to advance to the quarter-finals.
"Mexico deserved to be in the last 16 and did a great game," Silva said. "But only one team continues. And we deserve that after our performance."