Barcelona
Beleaguered Barca referee Hernandez even got match report wrong!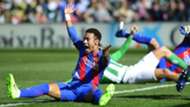 Even as bad days at the office go, Spanish referee Alejandro Hernandez Hernandez's stint on Sunday was especially incompetent. 
Hernandez saw himself in the spotlight after officiating Barcelona's 1-1 draw with Betis after refusing to give a clear goal from Jordi Alba. 
Barcelona outraged over disallowed goal
That decision won him the contempt of Neymar and the rest of the Catalan side, as they dropped valuable points in the La Liga title chase. 
But that faux pas might not have been the most serious mistake the whistleblower made in Seville.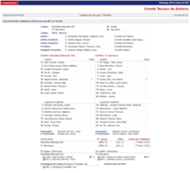 A copy of the match report that circulated after full time showed that Hernandez had released Betis' official line-up with just 10 players. 
Romanian defender Alin Dorinel found his participation in the match striken from the official records in a bizarre mix-up on the referee's part. 
And to make things even worse, Ruben Pardo also saw his place in the Betis XI eliminated - as the midfielder was replaced by Fran Merida, currently of Osasuna!