BeIN Sports returns to UAE TV screens for Etisalat subscribers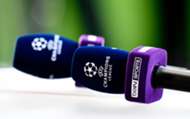 Saturday began well for football fans and sports enthusiasts in the UAE as BeIN Sports TV channels were unblocked after more than a month of the dreaded 'blue screen'.
The network is active again for Etisalat elite subscribers as it soon became evident on Saturday morning.

ALL YOU NEED TO KNOW ABOUT ICC 2017
Owing to the political uncertainty in the region, channels provided by the Qatar-based telecom giants were blocked in the UAE.
Etisalat' sent out text messages to their subscribers stating that starting July 22, BeIN Sports will become available again and that "normal charges would apply".
"The provision of the beIN package will be subject to an ongoing review," the text message added.
BeIN has exclusive rights in the region to broadcast some of the biggest football competitions in the world including the Premier League, La Liga and Champions League.
Football fans in the UAE are ecstatic to have access to their favourite teams once more especially as concern grew with the European football season fast approaching.
Fans already missed out on the 2017 Confederations Cup this summer among other tournaments involving younger age groups.
It remains to be seen if du subscribers enjoy a similar fate.