Barcelona v Real Madrid
Barcelona's other star names can step up in Messi's absence & hurt Real Madrid, says Montoya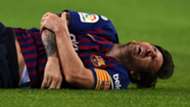 Barcelona will be without Lionel Messi for El Clasico for the first time since 2007, but La Masia graduate Martin Montoya still fancies his boyhood club to win against a "down" Real Madrid side.
Messi fractured his arm in the recent 4-2 win over Sevilla and is still two weeks away from a return. However, the Catalans face their rivals amid crisis in Madrid, with Julen Lopetegui fighting to save his job as manager of Los Blancos . 
Montoya, who has moved away from the Spanish giants and now plays for Brighton, will be watching El Clasico after facing Wolves in the Premier League and thinks his former club remain in good shape, even without their iconic player.
"It is going to be a game with many goals because El Clasico is always like this," Montoya told Goal and Omnisport . "It is very attractive, with ups and downs. I want Barcelona to win, always.
"Real Madrid are a big club though. I think the result will be 2-1 or 3-1 for Barcelona. It is true Barcelona are currently without Messi but they have other big players too. Messi is almost everything, but there are also other big players.
"Real Madrid are a bit down now, but Real are always Real and every single game is a different world.
"It is the biggest event. Barcelona-Real Madrid makes all the people excited. It is a big party for all the Barcelona fans and even more for a former academy player.
"You're very proud to play in El Clasico. Fortunately, I have been able to play Clasicos and, being honest, it is spectacular. The week before, the minutes before the game… and especially during the game it is very intense."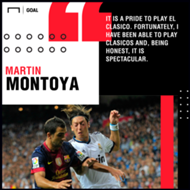 Montoya played 66 times for Barcelona, winning seven trophies, including the Champions League, before leaving in search of more game time.
As a product of Barcelona's famed academy, Montoya had the privilege of seeing Messi up close from a young age and getting to know the Argentine superstar.
Andres Iniesta left Barca during the summer, with Messi taking the captain's armband and Montoya believes that he is up to the job as he continues to mature.
"Messi has always been shy since he was a child," he said. "He is quite reserved. Anyway, I think as time goes on, people get experience and extroverted. I left a few years ago, but I think now, being captain, he has to take the team on his own and link everyone, being the leader.
"I believe, even if he is still a bit shy, he is doing a good job as captain. It is a unique experience being able to play and train with Messi. And also to get along with him every day because at the end of the day football is your life.
"It is a unique experience. He is a great guy and as a player he is very good in the games and even better in the training sessions.
"He is a player who thinks much more in advance of you. When you try to tackle him, he has already dribbled past you. He is a cracking player."
Following his time at Barcelona Montoya had spells at Inter, Real Betis and Valencia. He now seems to be settling well into life in England, having spoken of his comfort in his new surroundings with the Seagulls.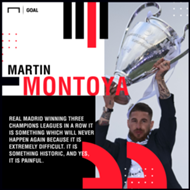 He made his debut in a 3-2 win over Manchester United after moving to the South Coast for £6 million ($8m) in the summer. However, his support for Barcelona remains strong and he hopes to see the Catalans claim the Champions League this season after watching Madrid win three in a row.
"Yes, being honest, it is something painful," he said of watching Los Blancos' success in Europe. "Real Madrid winning three Champions Leagues in a row, it is something which will never happen again because it is extremely difficult.
"It is something historic, and yes, it is painful. It is tough to see the eternal rival winning that many Champions Leagues. It is time for Barcelona to win the Champions League and hopefully it will be this year."