South Africa
Banyana Banyana assemble for selection camp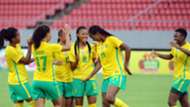 Interim Banyana Banyana head coach Desiree Ellis has invited 34 players to a five-day selection training camp.
Banyana are preparing for the Cosafa Cup tournament which will take place in September this year in Zimbabwe, and Ellis has preferred to go in with her familiar players, picking only one new face -Moalatelo Sara Kobo from the University of Limpopo.
Ellis said the camp would serve as good preparation for Banyana ahead of the regional competition and would also help to get everyone on par.
"We are preparing the team for the 2017 Cosafa Women's Championship," she told the Safa website.
"We just want to make sure the players are fit and understand what is expected of them. Prior to them reporting for camp we gave them a training programme, and they seem to have followed it as they looked good on the first day – most have shed some weight. The main idea is to have a core group," she said.
"Stuart Baxter is trying something similar with Bafana Bafana where he is calling players that have been to the U17 and U20 World Cup tournaments, and other players outside the core group, like Mario Booysen who played in the Cosafa Cup and the Chan matches," continued Ellis.
"We are trying to do something similar and trying to get everybody on the same level of fitness so that if one player withdraws you can automatically call up another because the player is part of the group and not too far behind in terms of fitness and knowledge of what is needed," added the former Banyana captain.
Banyana assembled for camp on Sunday, 23 July 2017 and had their first training session on Monday at Ennerdale in Johannesburg. The camp will conclude on Friday, 28 July.
Midfielders Amanda Dlamini and Busisiwe Ndimeni have since withdrawn from the squad after aggravating injuries.