African All Stars
Aubameyang welcomes Sokratis Papastathopoulos to Arsenal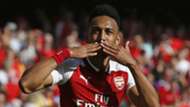 Pierre-Emerick Aubameyang has welcomed new signing Sokratis Papastathopoulos to Arsenal.
The centre-back completed a €19 million move to the north London club on Monday and becomes the Gunners' third signing of the summer.
Aubameyang and Sokratis won the German Cup and German Super Cup laurels with the Signal Iduna Park outfit before the former left for the English Premier League in January.
Six months later, both players will play together in the English top-flight and the 29-year-old could not hold his excitement.
Elated by the reunion with his former teammates, Sokratis revealed the role played the Gabon international and Henrikh Mkhitaryan in convincing him to switch to England.
"It's very beautiful that I have come but I also have two players I was together with for a lot of years," Sokratis told club website.
"I know them [Aubameyang and Mkhitaryan] both very well and I'm very happy.
"I spoke [to them] a lot of times. They said to me the best things about this club - that it is one big family, and of course they also called me not every day but a lot of times telling me to come here."