Chelsea
As king Conte's crown starts to slip, is history about to repeat itself at Chelsea?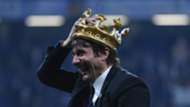 On December 17, 2015, Jose Mourinho takes a call telling him that his services are no longer required at Chelsea and his P45 is in the post.
With the Portuguese's desk cleared at Cobham, those at Stamford Bridge once again find themselves in a period of transition.
You may have noticed that the Blues are rather partial to the odd manager change, with Mourinho the only man to have made it through two full calendar years since he arrived in west London for a first spell at the helm in June 2004.
Carlo Ancelotti came close to taking in 24 months with the Blues, only to fall a few weeks short, while Mourinho's second stint took him past 30 months, but 14 days shy of reaching the end of 2015.
What happened to be his date of destiny is now fast approaching once again.
Antonio Conte should have done enough to make it past December 17, but he still has a home date with Southampton to come on Saturday which could impact his future and ongoing presence at Stamford Bridge.
Were the Italian to see his side come unstuck against the Saints, then he may be advised to turn his phone off for 24 hours and avoid any emails from a certain Mr R. Abramovich.
Patience is not a trait commonly associated with the Russian oligarch, with multi-billion pound fortunes not accumulated by those prepared to overlook failure and offer second chances to underachieving members of staff.
Past successes may buy a little time, but those in possession of the proverbial bullets can have short memories and itchy trigger fingers.
In Conte's case, he may have been ruler of the King's Road back in May, but seven months later his crown is starting to slip and history dictates that just one direction is taken once that starts to happen.
Mourinho, an iconic figure and a man assured of legendary status in SW6, found that out the hard way, and if he has not done enough to earn a stay of execution, then what hope does anybody else have?
Chelsea's standing back in 2015 was, admittedly, considerably more concerning than it is at present, but there are still similarities to be drawn.
Two years ago, the Blues – as defending champions – endured a humbling fall from grace as they suffered nine defeats in 16 Premier League outings to set some rather unwanted records and leave Abramovich with little choice but to wield the axe.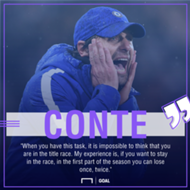 This time around, there have only been four reversals in 17 fixtures, but that has already been enough to see Conte throw in the towel.
He said after a disappointing derby defeat at West Ham: "To talk about the title race after a defeat I think is a bit strange. Especially as this is the fourth defeat this season. When you have this task, it is impossible to think that you are in the title race. It is impossible. My experience is this, if you want to stay in the race for the title, in the first part of the season you can lose once, twice."
Conte followed that admission up by stating after a win over Huddersfield: "When you have a competitor like Manchester City that every game they are winning it is very difficult to think you can fight for the title. Because, 'you are negative, positive, you think negative', it's bull****, bull****. You must be realistic, we must be realistic. I would rather tell the truth, than a good lie."
Honesty is to be applauded, but in this situation "a good lie" may have been no bad thing.
Abramovich is unlikely to have welcomed the title concession from his manager, even when taking into account other avenues to silverware still being open – such as in the Carabao Cup, Champions League and FA Cup.
Being number one is all that matters to the Blues owner, and that is a mentality which seeps down through the club.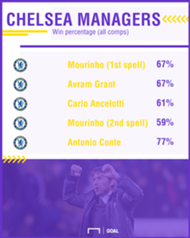 Conte himself is a winner - his CV (which includes the highest win percentage of any Chelsea manager in league history) and general touchline demeanour proving as much – but he is also the occupier of the hottest of hot seats and a coach who has already done himself few favours by admitting that he intends to return to Italy at some stage in the not-too-distant future.
He may find that he is granted that wish sooner than even he was expecting, with a vacant post with the Italian national side – a role he has already filled in the past – there to be inherited by whoever wishes to take on the challenge.
It has also been suggested that Ancelotti, having been relieved of his duties at German giants Bayern Munich, is back in London and open to offers from club sides in a division he knows well and has already conquered once before.
His presence should also be of some concern to Conte.
When Chelsea gave Mourinho the boot, they turned to the experience of a familiar face to steady the ship, with Guus Hiddink returned to Stamford Bridge for a second stint as interim boss.
Ancelotti, a double winner from 2009-10, could fill a similar role – be that mid-season or once the 2017-18 campaign comes to a close.
The Italian was moved on after failing to defend the aforementioned Premier and FA Cup prizes he secured during a memorable first year at the helm, and it could be that history is about to repeat itself as Conte finds himself stuck on a well-trodden path in west London.