Arsenal
Arteta or Allegri for Arsenal? Merson finds fault with both candidates to replace Wenger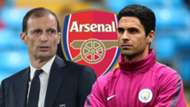 Mikel Arteta and Massimiliano Allegri may be the wrong choices to succeed Arsene Wenger at Arsenal, says Paul Merson.
Goal revealed recently that the Gunners have identified the Manchester City first team coach and Juventus manager as their favoured options to take the reins at Emirates Stadium.
Whoever they decide to appoint, there will be some big shoes to fill in north London as Wenger prepares to step down from a post that he has filled for 22 years.
Arteta is considered to be an exciting option for the future, but the former Arsenal captain is untested in a managerial capacity and Merson feels a demanding fan base would prefer a proven performer.
He wrote in a column for the Daily Star: "Personally, I think Arsenal would like Mikel Arteta to get the job but I'm not sure the fans would have that.
"He has never managed before and doesn't have much experience.
"I still think Brendan Rodgers is the ideal candidate. He plays the right kind of football and has proved he can handle the pressure of a big job."
Allegri would fit the mould when it comes to experience, as a multiple Serie A title winner at AC Milan and Juve, but fears have been raised as to the brand of football he would bring with him to England.
Merson added: "They are obviously looking at Juventus boss Max Allegri, and there are plenty of Arsenal fans who would love him to take over, I'm sure.
"But that's George Graham football. Keep it tight and nick a goal. The Italian way. It won't be free-flowing.
"It won't be the sort of football Arsenal fans are used to."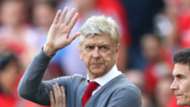 While Arsenal are yet to decide who their next manager will be, Merson believes the man currently at the helm will be staying in football once he bids farewell to the Gunners – with potential roles being mooted at Everton and Paris Saint-Germain.
He added: "Wenger will carry on. It's all he knows. He doesn't have anything else in his life apart from football. He won't be able to say no to another job.
"Everton? It wouldn't surprise me if he ends up there because he will think: 'I'll show you, Arsenal.'"
"It might appeal to him to take another Premier League job and stick it to his old club. If he went to Everton and things went well he could end up finishing above them!
"That would be a nice way of showing them they were wrong to push him out the door before he was ready.
"But I think two years at Paris St-Germain trying to win the Champions League before he retires would suit him better.
"One last big challenge like that and then he could probably move upstairs and put his feet up. I'm sure they would let him, they love him there."